The Adidas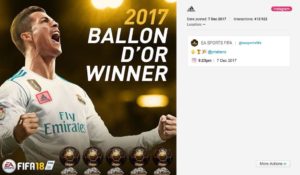 brand is pictured in 6.5m images shared on Twitter and Instagram each month, more than any other brand, according to Brandwatch.
The analytics company's Image Insights Product uses image recognition to scan for logos shared in social media pictures. In April it found that Adidas by far featured in the most shared images, clocking 154 unique images every minute.
It was followed by rival Nike at 5.3m, Google at 3.8m, Emirates at 2.8m and Puma at 2.7m, said the report.
Adidas was boosted by its involvement in football, with its logo adorning the shirts of prominent players like Cristiano Ronaldo and Alexis Sanchez. Portuguese star Ronaldo was also on the cover of the Fifa video game which would have served to swell these figures.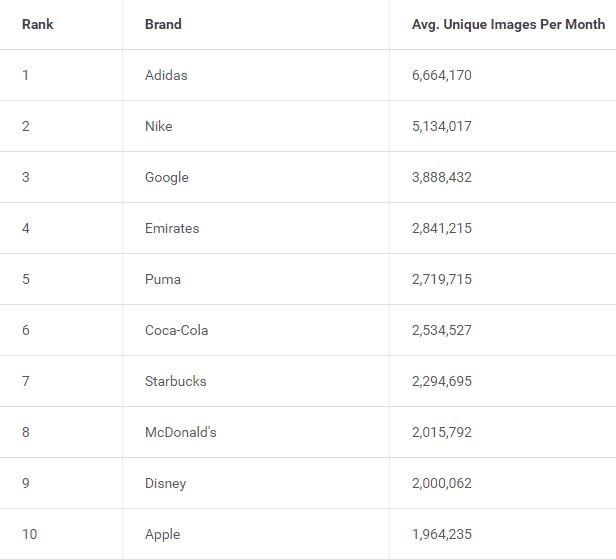 Adjusted for revenue per image, a metric created to identify brands that may be punching above their weight, Puma, Under Armour, Adidas, BBC and Vans occupied the top five.
Brandwatch attributed the BBC's performance to its tendency to watermark all of its content, Vans was credited with success in growing markets, and Louis Vuitton saw gains from being shared by influential individuals; 12% of its image reach was spread by authors with more than 10,000 followers.
The study also dissected brands in football which went some way to explaining Puma's exemplary performance. The club sponsors Leicester, Arsenal and Newcastle in the UK, and from this it has whipped up a cost of $2.40 cost per image shared. This compares favourably with Adidas ($8.02 cost per image) and Nike ($11.83 cost per image). Unlike its rivals, Puma also places its logo on the sleeves of players which will get it exposure in more images. The report read: "No other kit sponsor does this and it appears to greatly increase visibility."
It will come as no surprise that sports apparel is the best way to get a brand into the public conscience and this was followed by tech, entertainment, retail and aviation.
The study also dissected the most popular brand logos by country across Europe. There's surprising little deviation across the continent.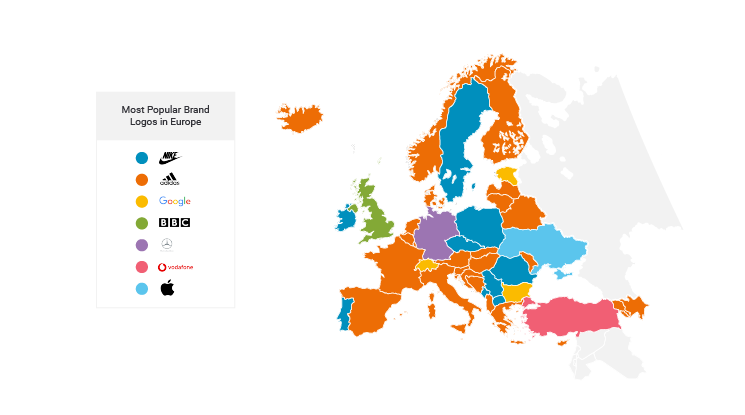 Phill Agnew, product marketing manager and author of the report, said: "Brands spend millions plastering their logos across billboards, t-shirts, screens and pretty much any non-listed building. However most businesses have no way to quickly quantify the effectiveness of this expense, or gauge how they're performing against their competitors in real time. Until now.
"In a world that is becoming increasingly visual, it's more important than ever to understand the power of your logo when it comes to building awareness of your brand. Emirates, for example, are doing a great job of generating tangible visibility and are performing well ahead of their industry rivals. With an average of 2,841,215 unique image views a month, the company is making sure that its brand is seen in the right place."
Source: The Drum