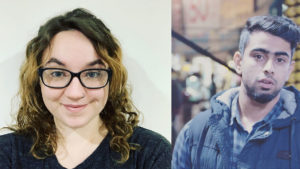 Manchester-based WorkMobile, a cloud-based data capture specialist, has appointed two new hires to boost its technology department.

With over three years' experience in software development, Waleed Ahmed has joined WorkMobile as a C# Developer. Previously a software engineer at Medical Transcript Billing Corporation in Pakistan, he will help to develop new modules for the WorkMobile app and will be responsible for the analysis, design, development and implementation of the desktop and web application.

WorkMobile's second appointment sees Emily Driscoll join as a junior software developer. A Linguistics post graduate from the University of Manchester, where she focused on computational linguistics and language development, Emily will be responsible for providing quality assurance on the testing team to ensure the Workmobile app is the best it can be.

Both Waleed and Emily will play a key role in helping WorkMobile to improve its data capture app, which provides a more accurate, compliant and efficient alternative to paper forms.

Graham Stanley, chief technical officer of WorkMobile, said: "We are pleased to be able to expand our technology department with two talented hires. Their roles are critical in enabling us to continue to deliver a leading data capture app that satisfies and exceeds our customers' needs in the fast-paced digital age. This is a really exciting time for WorkMobile as we aim to expand our offering and drive the business forward."
Source: WorkMobile