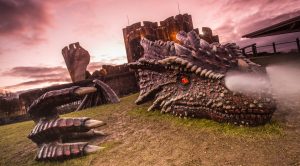 Cadw, the Welsh Government's historic environment service, has deployed iBeacon technology throughout 10 Welsh castles, and within the four-metre dragon model which has been touring its heritage sites during 2016.
The solar-powered beacons were deployed by Welsh firm GCell, and work in tandem with the Cadw iOS and Android app developed by Locly.
The technology has been used to create a proximity-triggered digital trail as users walk around the castles. Content includes images, audio and video relevant to each location, plus dragon-specific content for the model.
"We used both existing and new digital assets to create the trails, which provide fascinating insights into all aspects of castle life, including atmospheric audio narrations given by imaginary castle workers and image interpretations of what the castles may have looked like in their prime," said Cadw heritage interpretation manager Erin Lloyd Jones.
"Our overall aim was to enhance the physical with the digital to deliver engaging experiences for visitors of all ages, encouraging them to learn and explore as they walk around. The dragon is a truly iconic addition to our sites."
Cadw plans to add more digital trails to its sites during 2017.
Source: Mobile Marketing Magazine