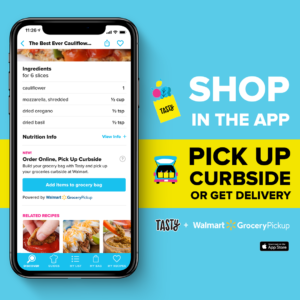 Walmart and Buzzfeed's Tasty have partnered to launch a new in-app feature, Shoppable Recipes, which lets viewers add ingredients from a Tasty video straight to their Walmart grocery cart. To use the feature, customers need to download the Tasty app, where they can choose from 4,000 recipes. Once a recipe has been picked, a one-click process will add the ingredients list to the Walmart Online Grocery cart, via Walmart app or website.
"Finding that perfect recipe, creating a grocery list and finally getting to the store can keep any chef out of the kitchen," said Janey Whiteside, chief customer officer, Walmart. "We're excited to create a fun solution that feeds customers appetites to put time back in their busy schedules all while saving money with Walmart's everyday low prices."
While still in the Tasty app, customers are able to swap, and exchange certain ingredients included in the recipe. Ingredients can also be filtered by price, brand, quantity, organic or other dietary preferences. Once the groceries are paid for, they may be delivered or picked-up as soon as the same day.
"From watching a mesmerising Tasty video to cooking it in your own kitchen, the missing link is buying the ingredients. More than two-thirds of our audience have made a Tasty recipe and 90 per cent of American live within ten miles of a Walmart store, so we're excited to build upon our partnership with Walmart and provide a new feature that will solve the pain point of grocery shopping and make it even easier for our audience to cook their favourite Tasty recipes," said Ben Kaufman, chief marketing officer, Buzzfeed.
Source: Mobile Marketing Magazine