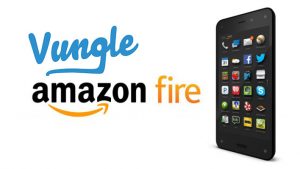 Vungle, the leading performance marketing platform for in-app video ads, announced the upcoming release of a software developer kit (SDK) for Amazon's popular Fire tablets. Vungle, working together with Amazon Appstore, will bring its industry-leading user acquisition and monetization platform to Fire tablets.
According to analyst firm IDC, adoption of Amazon devices increased 1,200 percent year over year in 2016, making it an increasingly important device family for developers and brands. As consumers spend more and more time on their mobile device of choice, mobile advertising is expected to reach $215 billion globally by 2021.
"Fire tablet users are a rapidly growing and sought-after audience. With Vungle's support for Fire tablets, our advertisers can now tap into this valuable user base," said Zain Jaffer, CEO of Vungle. "We have made a strategic investment in our support for the Amazon Appstore, and Vungle is the first video performance marketing platform that developers can use to monetize their apps across all major app operating systems: Fire OS, Android, iOS and Windows. This support provides publishers and advertisers the ability to reach consumers with highly relevant, targeted video advertising on almost any device, anywhere in the world."
"We've already seen tremendous success with our apps on the Amazon Appstore. They have an engaged, high-value user base," said Steven Thompson, senior vice president of growth for Jam City. "With the addition of Vungle's cutting edge creative designs and optimization technologies, we can achieve a higher level of performance and find the best users."
The Vungle SDK for the Amazon Appstore will be available in September. Developers can sign up for early access at here.
Source: Vungle