Unilever has teamed up with AR treasure hunt app Snatch to give players the chance to win the world's most expensive jar of Marmite ever.
As part of its Gene Project campaign, an 18ct gold plated jar of Marmite – valued at £1500 by Boningtons Auction House – could be snapped up by one lucky person in the Snatch app.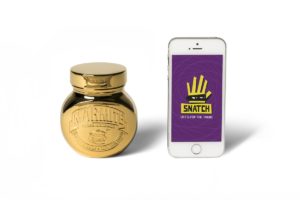 To have a chance of grabbing the rare prize, players must hunt for jars of Marmite around the in-game map. Upon discovering one, a jar of Marmite will rise from the ground in front of them, via AR, and they then answer if they were 'born a lover' or 'born a hater' of Marmite. Following this answer, they are given information about the Gene Project and win a randomly-selected Marmite-associated prize.
"Our collaboration with Marmite capitalises on this with a fun piece of activity for our users, as they actively seek out in-game jars on the map to trigger an AR experience, with one lucky winner scooping the golden prize," said Kate Taylor Tett, head of marketing at Snatch.
Marmite's Gene Project begun with a study, conducted by UK genetic testing centre DNAFit, which found that genetics could play a part in deciding who ends up 'loving' or 'hating' Marmite. On top of this, the campaign has seen Marmite release Gene Test Kits, so the public can find out whether they were born a lover or a hater also – at £89.99 it doesn't come cheap, however.
Source: Mobile Marketing Magazine