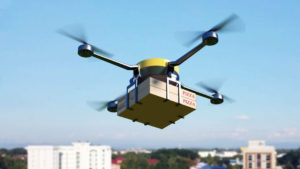 Uber has joined a growing list of companies keen on using drones for delivery. It wants to integrate the technology into UberEats, its meal-delivery service, and envisions dropping off its first drone-delivered dinners as early as 2021.
The company better known for ride-sharing revealed earlier in 2018 that it's keen to utilise drone technology for its UberEats meal-delivery service, but a job ad spotted over the weekend by the Wall Street Journal suggests, for the first time, a target date for its first drone delivery.
The job ad is titled "flight standards and training" and the position is based in Uber's home city of San Francisco. The ad says the primary focus of the role is to develop "standards, procedures, and training while reducing operational risk for all UberExpress flight operations." UberExpress is the internal name used for the company's drone-based plan.
The person who takes up the post will also be required to "enable safe, legal, efficient, and scalable flight operations to deliver flights in 2019 and commercial operations in multiple markets by 2021."
To achieve its goal, Uber will have to first build a drone platform — including the machine itself — capable of carrying out the deliveries. And then there's the tricky matter of overcoming regulatory hurdles. Lots of companies — web giant Amazon among them — want to use drones to drop orders at people's doors, but the Federal Aviation Administration has so far proceeded with extreme caution when it comes to commercial drone operations, and so that agency would have to be reassured about safety when considering licenses for such platforms.
Uber CEO Dara Khosrowshahi revealed Uber's plans to use drones as part of UberEats during an on-stage interview with Bloomberg in May 2018. Like its rivals in the highly competitive meal-delivery business, Uber currently uses drivers and cyclists to fulfil orders, but autonomous delivery drones, which are able to pass straight over gridlocked city streets and buildings, could give its own service the edge by offering a speedier alternative once the technology is fully ready.
Source: Digital Trends