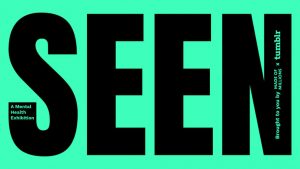 Tumblr, a creative platform bringing together millions of people and communities from around the world, announced the launch of 'Seen', a brand new unique art exhibition exploring the hidden depths, complexities and perceptions of mental health.
Partnering with Made of Millions, a grassroots mental health platform that uses art and technology to inspire advocacy, the exhibition will include a diverse body of work from renowned Tumblr artists, as well as photography from Yumna Al-Arashi. The event will be open to the public and run from 10 – 11 October, helping bring the power of digital communities into the real world.
'Seen' will be free and open to all, featuring a diverse body of work from talented Tumblr artists, five of which will be using AR to unravel hidden meaning. The AR experience will be powered by RYOT Studio, a global creative studio, part of Oath. Using the RYOT AR app, visitors' mobile screens will transform canvases.
Held in Hoxton Arches in London, the exhibition will use Augmented Reality to convey the many layers of psychological health and the idea that when it comes to a person's mental wellbeing, what you see isn't always what you get. With one in four people in the UK alone experiencing a mental health problem each year, and around 450 million people globally, the exhibition marks a pivotal time for mental health representation in the mainstream media.
Tumblr will also be promoting work from the artists involved in the event around central London through a digital Out of Home (OOH) campaign. This will run from 6-13 October, helping raise awareness on the internal effects of mental health around World Mental Health Day.
Internationally recognised artists' original work will be on display at the exhibition, including Yumna Al-Arashi, an acclaimed photographer best known for her work documenting the lives of Yemeni women. Yumna's past clients have included Vogue, the New York Times, Artsy, Dazed & Confused, i_D and VICE amongst notable others.
Attendees can also witness the creation of a live mural, which will be painted by Will Barras, an acclaimed British artist and one of the most prominent figures within Bristol's widely renowned urban art scene. The exhibition will also include a 10-minute video documentary, depicting one of Made of Millions' founders, Rose Cartwright's personal story and experience of mental health, which is also being dramatised into a forthcoming Channel 4 series.
The global conversation around mental health on Tumblr has generated 633 million posts on the platform in the last year alone. This exhibition will be an offline iteration of Tumblr's commitment to promoting a healthy dialogue around mental health via online communities, as well as a celebration of real people's experiences and the importance of storytelling.
Original pieces of artwork will be included in a Silent Auction on site from Tuesday to Thursday where guests can make bids on the five pieces of AR-enabled art and all proceeds will go to Made of Millions. Postcards will also be gifted to those that donate.
Other Tumblr artists commissioned include:
Sarah Maxwell is an American illustrator based in London. She was born
and raised in Austin, Texas, only to then travel to Paris for studies. Her work ranges from fashion illustration to animated GIFs and comics. Based in Mexico,
Debbie Balboa makes detailed painted animations and magical environments that are both whimsical and beautiful. Her best friend struggles with mental health problems so the subject is close to her heart.
Ricardo Bessa is a London-based, Portuguese-born freelance illustrator and storyboard artist who is partial to unique characters and eye-catching colour combos.
Sylvie Reuter is an artist based in Germany who accrued over 100,000 notes on Tumblr in relation to her latest masterpiece, exploring what mental illness really looks like. Based in California,
Miriam Presas is a freelance illustrator with a hugely popular Tumblr following.
Source: RYOT Studio