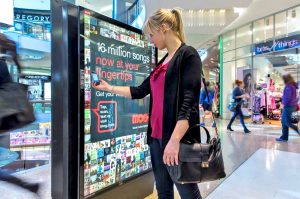 TouchTunes Media announced a partnership with DOmedia and Rubicon Project that will allow advertisers to execute programmatic advertising across the largest digital out-of-home (OOH) advertising network in the United States. Programmatic advertising technology, the backbone of internet ad campaigns for over a decade, has been an area of focus for the OOH ad industry for several years. This partnership makes TouchTunes the largest supplier of programmatic out-of-home advertising inventory in the US.
Rubicon Project, the global exchange for advertising, announced its partnership with DOmedia, the largest US platform for buying and selling OOH media, in May 2017. The resulting integration allows media vendors using DOmedia's supply-side platform (SSP) to sell programmatically via Rubicon Project's exchange, which integrates with the world's top media buyers.
"These types of integrations, which allow OOH to be bought apples-to-apples alongside TV, radio and internet advertising, are crucial for the industry's future growth," said Ken Sahlin, CEO of DOmedia. "But, building that technology is costly. We've built a single pipe that the entire industry can use to sell into the global ad exchanges."

TouchTunes Media will be the first media vendor to take advantage of DOmedia's integration with Rubicon Project. Over the past year, TouchTunes has invested in increasing the technological capabilities of its network of 54,000 ad-enabled jukeboxes in bars and restaurants, the largest such network in the US.
With more locations than McDonald's, Starbucks and Walmart combined, TouchTunes will offer advertisers over 8 million impressions per day via Rubicon Project's exchange. This news follows another partnership with Rubicon Project and TouchTunes Media, announced in April 2017.
That agreement created a private marketplace which gave ad agency Ciceron, a Minneapolis-based digital marketing agency, on-demand access to TouchTunes ad inventory as they launched a campaign for Warner Brothers Records.

"TouchTunes is really putting themselves out there as a market leader in this space and we're thrilled to have them as the first partner to go live in our integration with DOmedia," said Joe Prusz, Global Head of Revenue, Rubicon Project. "Today's announcement is further evidence of Rubicon Project's commitment to automating advertising across all channels and formats."
As the internet advertising space has matured, major technology providers, such as Rubicon Project, have been eager to take what they have built and apply it to so-called "traditional" media. Radio and TV, where the supply of ad space is fairly consolidated, have been able to adopt new technology comparatively quickly. OOH, however, is an extremely fragmented industry.

Despite this, it is the only traditional advertising format that has charted consistent growth over the past decade. Now, firms like TouchTunes Media are driving the industry toward a technological Renaissance.
"People are spending less time at home, they filter out anything that doesn't make a massive impact, and they are on their phones all the time — out-of-home is proven to have a big multiplier effect on the effectiveness of mobile advertising campaigns," said Ross Honey, CEO and President of TouchTunes. "When you see the numbers, it is clear that out-of-home is poised for massive growth, and we're going be at the forefront."
Source: TouchTunes Media