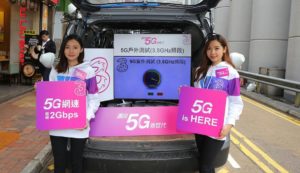 Three Hong Kong, the mobile network operator's arm in the East Asian autonomous territory, has completed the 'first' live outdoor broadcast via a 5G network within Hong Kong.
The CK Hutchison-owned company ran outdoor network trials in both the 3.5GHz and 28GHz spectrum bands, carrying out the live outdoor broadcast using the former. The 5G live outdoor broadcast test was carried out at a trial cell site in Causeway Bay.
According to Three, it found that greater coverage is achieved when the 28GHz band is complemented by the 3.5GHz band, stating that the 'long-term development' of 5G requires different bands to complement one another.
"Three Hong Kong took the initiative to carry out end-to-end trials in various 5G bands in preparation for a new era of mobile communications," said Kenny Koo, executive director and CEO to Hutchison Telecommunications Hong Kong Holdings.
"We welcome the government's decision to allow various of its premises to accommodate 5G base stations, and we hope the application and approval processes can be simplified and accelerated to help Hong Kong's 5G development."
Source: Mobile Marketing Magazine