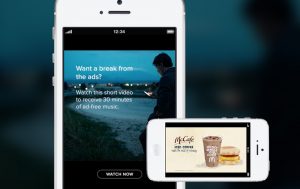 Ad tech firm The Trade Desk has partnered with Spotify, Triton Digital and AdsWizz in order to bring fully programmatic digital audio inventory to its customer base.
With more consumers than ever before accessing streaming audio via their mobile device, digital audio is a growing channel for advertisers, and programmatic buying can give marketers access to rich targeting data that audio advertising never previously had available.
"Programmatic audio is precision that you can hear," said Tim Sims, vice president of inventory partnerships at The Trade Desk. "By connecting with the world's most prominent supply sources for audio inventory, buyers will be able to target specific audiences listening to a variety of streamed content to ensure their message reaches listeners in an immersive way."

Spotify has recently expanded its own programmatic capabilities globally, and enables marketers to tailor their messages to specific music genres and playlist categories, while Triton Digital and AdsWizz offer buyers scale across a number of inventory partners.
"Each day, more than 70m music fans tune into Spotify Free," said Jana Jakovljevic, head of programmatic solutions at Spotify. "We're thrilled to enhance their ad-supported listening experience by offering programmatic inventory for purchase via The Trade Desk. Buyers can access premium inventory in the private marketplace in a true, real-time bidding environment. Advertisers will also have the opportunity to access Spotify's authenticated first party demographic data and unique playlist data."
"Advertisers have enthusiastically embraced digital audio programmatic to connect with the consumers," said Alexis Van de Wyer, CEO of AdsWizz. "We're excited to collaborate with The Trade Desk to provide their advertisers with access to the premium publishers."
Source: Mobile Marketing Magazine