This campaign for Samsung, created through agency Leo Burnett and produced by Alessia Small, paints a stylish picture of how Samsung's digital technologies conveniently connect work, lifestyle and home for maximum living efficiency. Shot by Tom Connelly represented by production company You Are Here, the Campaign, all of which was worked on at 4K resolution, comprises of one 30 sec TVC with longer versions available online and screened in-stores.
CherryCherryVFX's VFX Supervisor, Tony Landais (ex-Glassworks and co-founder of CherryCherry), worked together closely to create all the interfaces and other visuals which were then comped onto all the screens for mobile devices, car dashboards and in-store large format displays.
"The work itself was reasonably straightforward but there was just lots of it. It required us to use all of our team's skill sets on one project – concept artists, digital matte painters, motion graphics designers, CG artists, rotoscoping, clean up and comp. 'It was a bit of a beast', explains CCVFX EP Chris Allen. "In addition to all of this, we had to create a whole new CG dashboard for the interior car shots as we couldn't use the one that was shot, as well as creating new city scape matte paintings. It was the perfect job for pushing our 4K pipeline."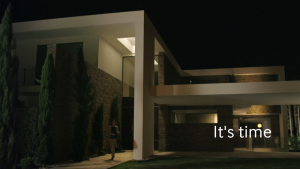 Due to the amount of different components needed for the spot and the consequent stream of feedback from the agency, prod co and the client, it was essential that there was a fluid communication during the whole process. The teams in London and Istanbul use Shotgun and Frankie to ensure a smooth and efficient workflow between the two studios.
"We create an environment that encourages absolute collaboration between us, the agency and the production company, so everyone is immersed in the project together from day one," added Chris.
Leo Burnett producer Alessia Small said of her first experience working with CherryCherry "Working with the guys at CherryCherry was a triumph. Alex and Krispy (CCVFX VFX supervisors) were amazing to work with and incredibly creative. Nothing was a problem for them. I look forward to working with them all again very soon."
Source: Little Black Book