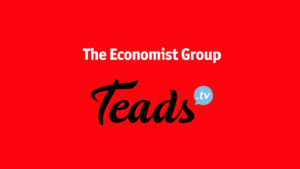 Teads, the global media platform, announced an exclusive global partnership with The Economist Group to deliver both outstream video and viewable display across all its media brands.
With a growing global audience and a reputation for insightful analysis and perspective on every aspect of world events, The Economist is one of the most widely recognised and well-read current affairs publications in the world, reaching a unique audience of over 1.4m C-suite and business decision makers.
Teads' global media platform will enable The Economist to scale both its outstream video and viewable display inventory, and increase video and display ad monetisation through both its direct sales team as well as Teads demand, across 40+ countries around the world.
Nicolas Sennegon, Executive Vice President and Chief Commercial Officer, The Economist Group, said: "This year marks a milestone in The Economist Group history with our 175th anniversary and an ever growing audience of globally curious people. Our partnership with Teads will enable our partners to further engage with our audience through innovative technology and formats."
"As one of the world's most respected media brands, we are delighted to be deepening our relationship with The Economist Group. Decision makers and influencers such as The Economist readers deserve the most sophisticated advertising experience, such as the one provided by our Global Media Platform," said Pierre Chappaz, Co-Founder and Executive Chairman, Teads.
"In addition to its unique innovative ad formats, Teads allows publishers to access an innovative technology stack that captures Teads industry-recognised, outcome-driven advertising know-how. Using the "Teads Publisher Suite" (accessible in BETA), Publishers can autonomously leverage real-time reporting, actionable optimisation analytics, unique AI-driven programmatic ad-decisions and outcome-centric creative optimisation."
This partnership continues Teads' mission of working with the best media brands in the world – in July the company announced a partnership with the BBC and now reaches 1.2 billion people across the globe. For brands and advertisers, Teads provides quality, brand-safe environments with renowned media brands, and is a founding member of the IAB's Gold Standard.
This huge, brand-safe reach has been built by Teads' continued innovation in video and display advertising – offering advertisers and publishers cutting-edge creative technology, driven by Teads Studio, and AI-driven optimisation. This innovation-led approach means Teads is a strategic partner for publishers, guaranteeing reliable and effective technology solutions.
Source: Teads