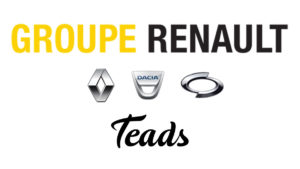 Teads, The Global Media Platform, announced a global partnership with Groupe Renault via OMD to deliver full funnel video and viewable display advertising solutions across the single-point of access to the world's most iconic and trusted media brands reaching 1.5 billion unique users every month.
Creativity and data are the two main pillars of a partnership aimed at creating premium brand experiences, in order to attract user attention and deliver impactful effective media solutions.
In digital advertising, creativity accounts for up to two thirds of brand impact so Teads will help Groupe Renault via OMD to develop content that breaks through the noise by creating memorable brand experiences for its audience. By working with the Teads Studio – Teads' integrated creative and data platform – Renault via OMD will be able to bring together media, creativity and technology to create beautiful, data-powered, interactive, video and display ads that work across any device and deliver true business results.  
Teads' partnership with Groupe Renault will offer a new way to support their quality advertising campaigns. The alliance enables mass reach, brand-safe, fraud-free and highly viewable inventory in top quality publishers. Thanks to this partnership the automotive group will scale their advertising contents to increase awareness, consideration and action along the entire marketing funnel. By merging media, creativity and technology, Groupe Renault will be also able to create unique bespoke interactive ad-units, data driven and 100% oriented to generate outcomes. 
Laurent Aliphat, Global Media at Groupe Renault said: "In a context where the battle of the customer's attention is a major issue for any advertiser, we were particularly interested in Teads' unique qualitative approach. Their perfect consideration of the new requirements of a responsible communication and the obsession to offer an interesting, rich and respectful customer experience were decisive. Their ability to support us around the world with relevant and innovative creative solutions makes Teads an indispensable partner. This partnership is a real commitment to an advertising that is both smarter and more effective."
Neith Jaregui Morete, Global Accounts Managing Director at OMD said: "We're excited to work with Teads to bring scale that's fully brand safe through high quality outstream video and display ads. The nature of this strategic partnership allows our creativity to flourish and for us to leverage the Teads data ecosystem to reach users throughout the whole communications funnel. The media efficiencies from working at an international level coupled with Teads' high engagement rates mean our media budgets will work much harder as we enter into a year where the automotive market will be as competitive as ever. Teads is a key partner for us and guarantee reliable and effective ad technology solutions, based on the value of clean advertising."
Marc Zander SVP Global client partnerships, Teads said: "The partnership with Groupe Renault through OMD is the first of its kind in this category, a key indicator that all parties are keen to push a digital transformation for Groupe Renault. Our aim is simple – to help them become best-in-class creatively and drive the scale and quality needed to grow the brand in an increasingly digital world. As a joint business partner, we'll be opening the doors to our strategic and data teams, as well as our studio creative testing and optimisation to ensure Groupe Renault can benefit from all that Teads has to offer. Quality, speed and flexibility are at the heart of all our Global partnerships with an ambition to 'Make it Better and Make it Easier' for our clients. We are really excited about this new partnership with the Groupe Renault and OMD and look forward to delivering some outstanding work together."
Source: Teads