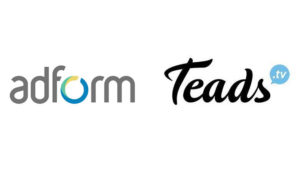 Teads, The Global Media Platform, announced its official partnership with Adform, one of the world's leading independent advertising technology platforms. 
Teads will now have a direct integration with Adform's highly trusted programmatic buying platform. This integration enables Adform's agencies and advertisers to access Teads' quality cross screen outstream inventory, via an exclusive marketplace (PMP) with the world's largest quality publishers including: The BBC, The Economist, The Washington Post, The Atlantic, Forbes, ESPN, Slate, Newsweek, Les Echos, El Pais, El Universal, and Nikkei, to name a few.
With outstream now the most popular digital video ad format in the UK, accounting for 52% of all video ad spend, there is a clear demand across Europe for this to be easily available programmatically. This new integration meets this demand, making new forms of inventory accessible to Adform buyers in Europe, North America, MENA and APAC.
Hugues Templier, EMEA Programmatic Business Development Director at Teads.tv said: "We're delighted to broaden the scale of Teads' premium inventory through our integration with Adform. As one of the exclusive RTB buying platforms connected to Teads inventory, advertisers and agencies will have access to the world's best quality publishers through Adform, so they can be confident their ads will appear in viewable, brand-safe environments."
Rick Jones, SVP Global Revenue Development at Adform said: "We're very excited to have finalised this direct integration with Teads, which enriches Adform's offering and will help our clients to find new opportunities to present to their customers high impact messages in the right context. Teads has been able during these years to strengthen its offering at scale with high quality inventory and video itself is one of the main trending channels in our industry so we're sure we'll all benefit from this new partnership."
Source: Teads