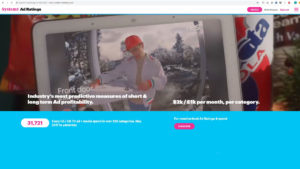 System1, the marketing and brand consultancy, has announced the launch of a new digital platform for its Ad Ratings offering. The platform was developed in partnership with LAB, the independent digital agency that uses a blend of neuromarketing, psychology and behavioural economics to design, build and market digital brands and experiences.
Ad Ratings uses System1's unique, award-winning methodology for testing creative to predict the long and short-term profitability of every UK and US ad that airs, across over 100 verticals.
System1's approach, which has been independently validated by the IPA, involves measuring people's emotional responses to advertising, based on research which shows that campaigns which evoke emotion are more likely to achieve long-term growth than message-driven, rational ads.
System1 has worked with LAB to develop a digital platform which enables marketers to view a prediction of profitability for their latest TV campaigns based on consumers' emotional responses. System1 shows each ad to participants, asking them to share the emotions they feel, and the intensity of those feelings.
System1's model predicts the profitability of the campaign, and platform users can cross-reference this data with media spend to plan and optimise their investment. Advertisers can subscribe to the relevant industry categories for a monthly fee.
Jonny Tooze, Founder and CEO, LAB, said: "Human emotion sits at the heart of what we do as an agency, so System1 are a dream client for LAB. Using Ad Ratings, marketers have access to amazing predictive data, backed up by the overwhelming research which shows that advertising which provokes an emotional response generates better business results."
Mark Parsonage, Chief Technology Officer, System1, said: "Research shows that human emotions are intrinsically linked to the success of an ad campaign. As an agency whose whole methodology centres around human behaviour, LAB were the obvious choice of partner to help us develop this new platform. We're delighted with the result and we're excited to give more marketers the opportunity to access our proprietary data."
Source: LAB