Sony Mobile UK and Mediacom partnered with AdColony, the ad quality video marketplace, to launch the UK's first Aurora Interactive HD Mobile Video unit for the launch of the Xperia XZ2. Immersive storytelling was brought to life through unique in-video engagement, resulting in strong growth in brand awareness and purchase intent.
Sony Mobile UK wanted to create a unique advertising experience when launching the new Xperia XZ2 handset. The Xperia XZ2 is packed with the latest technologies to deliver an entertainment experience that touches your senses in a whole new way. It was imperative that the mobile campaign not only delivered but also amplified these values. Working with AdColony, Sony and Mediacom created an interactive mobile video campaign that allowed consumers to interact with and experience the video in a variety of new ways to better enhance the campaign messaging.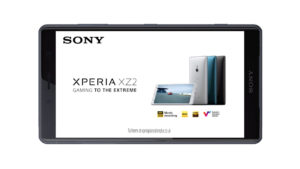 The campaign creative focused on the enhanced technology and gaming capabilities of the Xperia XZ2. To tap into gamers' natural instincts to interact with content in front of them, wipe away features were built into the video. Dust kicked up by race cars settled on the screen with users having to clean debris off the screen. Immersiveness was further boosted with additional haptic effects, making the phone rumble and shake at opportune moments. This connection between the video itself coupled with real actions and feelings was paramount to driving home the unique capabilities of the Xperia XZ2.
"Video advertising combined with the power of sight, sound and motion has long been proven as the best method to build awareness for brands," said Will Dorling, UK brand director at AdColony. "Mobile technology now enables brands to layer on unique immersive experiences such as touch and vibration to draw users deeper into the creative."
"Sony Mobile UK and Mediacom were excited by the possibilities of interactive video and set a clear, defined brief for an experience designed to excite users," Dorling explained. "Driving the project from its inception, Sony ensured that the final product was considered prior to AdColony building the campaign, allowing us to build the best possible creative execution."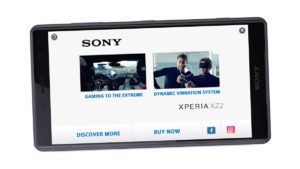 The connection between visual creative and users' emotions and senses helped the Sony Xperia XZ2 Mobile Interactive Video campaign deliver more immersive experiences for the user and allowed Sony to tell stories in a more interesting way.
Video engagement rates were 78 percent — more than 25 times higher than the benchmark engagement rates of standard video campaigns or rich media executions. Most importantly, over one-third of these engagements came from unique users, with more than 1.5 million users engaged with the ad overall.
Beyond the strong engagement metrics, Aurora HD Video also drove healthy lifts across key brand metrics. A brand study certified by Nielsen showed an increase in purchase intent of the campaign recipients of 8.6 percent over an unexposed control segment. Brand recall vs competitor handsets saw a 4 percent uplift.
Source: AdColony