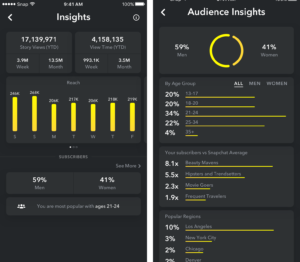 Snapchat is starting to tell creators how well their stories are doing: Snap Inc. announced the launch of a new analytics feature on February 14, that will tell Snapchatters with sizable audiences how their stories have been performing, as well as who is looking at them.
Some of the data shared includes weekly, monthly and year-to-date story view count as well as information on how much time Snapchat users spend on viewing a creator's stories. Snap will also share daily reach and engagement metrics, and demographic information about the composition of a Snapchatter's audience.
This information is being shared with Snapchatters who are part of the Official Stories creator community. These are essentially users with verified accounts, something that Snapchat until now has largely reserved for celebrities. The company is also going to share stats with other Snapchatters who have large followings on the service.
Creators could conceivably use the data to go out and hunt for sponsors or brand partners on their own, as it also includes audience insights information. However, the data is clearly also a first step towards Snap directly sharing revenue with its creators — something that CEO Evan Spiegel had promised to launch in 2018.
"We have historically neglected the creator community on Snapchat that creates and distributes public Stories for the broader Snapchat audience," Spiegel had said during the company's Q3 2017 earnings call. "Developing this ecosystem will allow artists to transition more easily from communicating with friends to creating Stories for a broader audience, monetising their Stories, and potentially using our professional tools to create premium content."
Source: Variety