Snapchat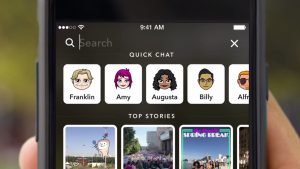 maker Snap Inc. is getting ready to take some of its content beyond its app: Snap is developing a new program dubbed Stories Everywhere that will allow third-party publishers to embed Snapchat content on their websites, according to a new Cheddar report.
Snap didn't immediately respond to a request for comment.
The project is being led by Rahul Chopra, who perviously served as CEO of the social news aggregation service Storyful, as well as global head of video for News Corp. Chopra joined Snap in December, according to his Linkedin profile, which calls him the company's "head of stories everywhere, content."
The idea behind Stories Everywhere is to accelerate user growth for Snapchat, which has been stalling. Cheddar's report likened it to Twitter's decision to allow the embedding of tweets in third-party websites.
Allowing publishers to embed Snapchat Stories on their websites could potentially also help convince the company's partners to stick with the format, which has been a bit of a mixed bag for some.
Recently, news broke that CNN is axing its daily Snapchat news show "The Update" just four months after its launch because of a lack of monetisation opportunities.
Source: Variety