Snapchat has announced a new feature called Bitmoji Deluxe, adding hundreds more options to customize your avatar, including new skin tones, hairstyles, eye and hair colors, facial features, and accessories.
On Bitmoji Deluxe, you can snap a selfie and use it as a reference to design your avatar. When you select a particular eyebrow style, for example, the app will preview it directly on your avatar in the builder. If you prefer your current avatar, the Bitmoji classic and Bitstrip styles will still be available.
You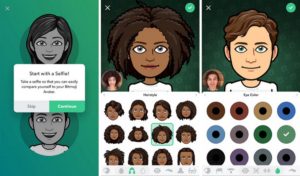 can access the tool via settings in the updated Bitmoji app, and tap on "change avatar style." You can also do this in Snapchat by tapping "edit Bitmoji," which will take you over to the Bitmoji app. The first time you go to edit your avatar after the new feature is launched, you'll be prompted about the new options.
Bitmoji currently offers a basic avatar builder where you can change your hair, eyes, nose, clothes, and other basic features. The new update builds on that and adds even more customization. So now you can select your very specific shade of blond or pink ombré hair, and tie it up in a side ponytail if that's your thing. Snap notes that accessories like make-up and earrings can be applied to any avatar.
Snap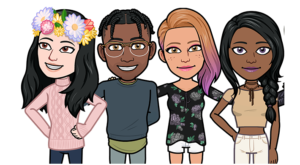 said it gathered feedback from Bitmoji users and the internal team about new options and noted that the Bitmoji community had for a long time been requesting more hairstyles and colors. "We built the Bitmoji Deluxe style, in many ways from the ground up, to offer our community a more visual design flow with added feature options, as well as build a back-end that allows for continued investments and more flexibility in the future," a Snap spokeswoman said in a statement.
Snap
bought Bitstrips, the company behind Bitmoji back in 2016 for a reported $64 million in cash and stock. Since then, it's integrated Bitmoji into the Snapchat app with features like Friendmoji stickers (avatars of you and your friends doing things together), 3D Bitmoji world lenses, and Bitmoji geofilters. The latest move by Snapchat is another way to entice users onto the app, as the company struggles with anemic user growth.
Snapchat says the Bitmoji Deluxe update is rolling out to all iOS and Android users, and it will continue to bring new designs to make the app more inclusive and customizable.
Source: The Verge