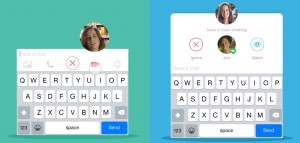 Snapchat has launched 'Chat 2.0', a major update for the social app's 'Chat' messaging functionality.
The update introduces audio calling, 200 emoji-style stickers, and short video and audio 'notes', looping clips which can be up to 10 seconds long. Chat's video calling feature has also been updated to be more intuitive.
These changes bring Chat closer in line with Facebook's Messenger and WhatsApp offerings, making it clear who Snapchat sees it as its main competitor. After introducing its first paid feature last September, the addition of stickers could also give Snapchat another way of monetising its users – something that has proved lucrative for other messaging apps like Line.
Alongside Chat 2.0, Snapchat has also introduced 'Auto-Advance Stories', so that users viewing the app's 'Story' galleries will automatically be shown another Story after finishing, and updated its Terms of Service and Privacy Policy.
It's a major push from Snapchat, as it works to monetise its 100m-plus users, which include 41 per cent of US 18- to 34-year olds. Those users spend an average of 25-30 minutes per day using Snapchat, and 60 per cent of DAUs are actively creating content – figures that are being used as part of the company's pitch to advertisers, according to Business Insider.
Source: Mobile Marketing