Formula 1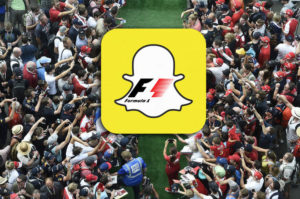 and Snap have announced a multi-year extension to the global partnership the two firms agreed to in the middle of the 2017 season. The deal will run for multiple years, and increase Snapchat's coverage of Grand Prix events from just seven in 2017 to at least 10 in 2018 and beyond.
The 2017 season saw millions of Snapchatters enjoy F1 action on Snapchat, with 90 per cent of viewers under 35 and over 50 per cent of them female. The expanded partnership will see Snapchat's in-house production team working with drivers, teams, journalists and fans on each race day, curating public Snaps and bringing HD quality race footage to viewers.
The Stories created for Formula 1 are published through Snapchat's Discover channel, and made available to users around the globe. Coverage will begin with the 2018 Formula 1 Rolex Australian Grand Prix, the kick-off of the 2018 Formula 1 season.
"Snapchat gives Formula 1 fans a unique way to experience each Grand Prix and engage with their favourite drivers, teams and races," said Ben Schwerin, vice president of partnerships for Snap Inc. "We're thrilled to be renewing our partnership with Formula 1 and look forward to giving Snapchatters around the world a perspective of this thrilling sport that they can't find anywhere else for years to come."
Partnerships with major sports leagues, organisations and broadcasters has become a priority for Snap. To date, the company has worked with almost every major sports league and organisation in the US, and is now focused on expanding its global partnerships.
"While the 2017 agreement was the first step towards expanding social platform presence, our multi-year renewal is a sign of the strengthening and speeding-up of the development of this strategy," said Frank Arthofer, head of digital and new business at Formula 1.
"We want to to work with partners that operate on a global level to bring Formula 1 and its amazing mix of technology and individual talent ever closer to our fan base, especially millennials. We are really pleased to have extended this agreement for a further two years and to increase the number of races that will feature in the Our Stories content on the Discover platform."
Source: Mobile Marketing Magazine