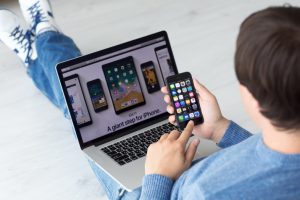 Smaato, a global real-time advertising platform for mobile publishers and app developers, announced two initiatives for enhanced in-app viewability measurement. By integrating Oracle's Moat into its iOS and Android SDKs, Smaato now offers advertisers a proven way to transact on viewable, in-app impressions across mobile video, interstitial and banner ad formats. Furthermore, through the IAB Tech Lab's Open Measurement Working Group — of which Moat is also a part —Smaato is working with industry leaders in supporting the next advance in viewability: open source viewability measurement.
As smartphones have undeniably become the hub of consumers' lives worldwide, mobile apps are now their mobile home. When using a smartphone, consumers spend 53 of every 60 minutes in mobile apps — a total of 2.3 hours per day. In countries like China, South Korea, Japan and Brazil, consumers' time spent in mobile apps is even higher, reaching upwards of four hours per day.
As consumers' appetite for apps continues to grow, in-app advertising has become the main growth engine of mobile ad spend globally — a trend that has brought increased advertiser demand for third-party viewability verification of in-app advertising together with increased transparency.
"Advertisers are rapidly moving their digital ad dollars to in-app, and in-app ad viewability has become a top priority for them," said Georg Fiegen, COO of Smaato. "Bundling viewability into Smaato's SDKs simplifies the process of measuring ad inventory viewability, which is key for publishers who want to unlock greater revenue opportunities with premium brands."
Smaato's new viewability enhancement is powered by Moat's Media Rating Council (MRC) accredited measurement tool and is the latest advancement in Smaato's ongoing commitment to greater transparency and openness for the company's expansive global publisher base. Through its 90,000+ mobile publishers, the Smaato platform reaches over 1 billion unique mobile users worldwide each month. Smaato and Moat have worked together since June 2017.
"We're excited to work with Smaato and look forward to continuing efforts as part of a larger industry coalition to ensure that open-source initiatives that we support deliver high-quality measurement," said Jonah Goodhart, SVP of Oracle Data Cloud and Moat Co-Founder.
As a member of the IAB Tech Lab's Open Measurement Working Group, Smaato is also supporting the development of an open-source SDK that will enable publishers to work with multiple viewability vendors without requiring multiple SDK integrations. Full integration with the Open Measurement (OM) SDK is expected by early 2018 and will become the industry standard for in-app viewability measurement.
Source: Smaato