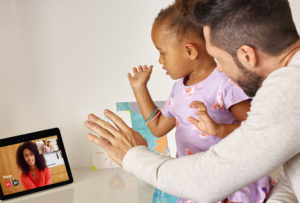 While everybody has been talking about Amazon's Alexa-enabled microwave, it has been announced that Amazon's Alexa devices will soon be able to manage Skype calls.
The Amazon and Microsoft partnership means that people using Alexa devices will be able to make outgoing voice and video calls, accept incoming Skype call, and make SkypeOut calls using just their voice. Skype calling is set to begin rolling out later in 2018.
Skype's arrival on Alexa devices comes just over a year after Amazon and Microsoft agreed to allow Alexa and Cortana – Microsoft's digital assistant – to be able to communicate with each other.
"This is the next step in the collaboration between Microsoft and Amazon to deliver delightful customer experiences through voice, which began with joining Cortana and Alexa," said Gaurav Sareen, corporate vice president at Microsoft, in a blog post. "Since then, we've added Alexa integration on Xbox and are continuing to work together to bring the best of Skype and Alexa together to enable intelligent communications for our users."
Source: Mobile Marketing Magazine