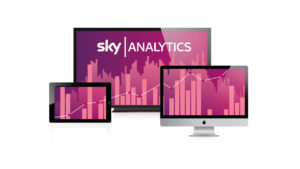 From July 4, Sky Media will rollout Sky Analytics to both media agencies and advertisers, opening-up direct access to plan, report and evaluate elements of their TV campaigns for the first time.
The release of the Sky Analytics online portal is the first phase on a roadmap to simplify execution and management of Sky's cross-platform TV advertising.
New online portal to plan, report and evaluate TV campaigns
Launching with capability across AdSmart and Video On Demand platforms
Inclusion of third-party verified MOAT video score data
Extensive roadmap including cross-platform reporting through CFlight and transactional capability.
Sky Analytics will deliver advertising partners the ability to:
Define, plan and price their Sky Media campaign in one place
Direct and accelerated access to campaign performance and reports
Deliver a deeper understanding of campaign outcomes allowing brands to evaluate and optimise advertising in greater detail.
Sky Media is on a journey to make Sky Analytics the one-stop portal to plan, report, evaluate and further optimise cross-platform Sky Media campaigns. Starting with AdSmart and On Demand, with a roadmap to enable capabilities across all its full addressable, on demand and linear suite of products. Media and advertising agencies, as well as established and local advertisers can use Sky Analytics to quickly access and control advertising campaigns.
Jamie West, Sky's Group Director of Advanced Advertising, said, "Sky Analytics is a significant step in giving agencies and clients more control of their TV campaigns. The ability to plan campaigns using the wealth of targeting attributes or combining with their own data is hugely compelling. We are on a journey to deliver a single powerful platform with the flexibility marketers have come to expect from digital, but for the brand safe premium video experience of TV."
First Phase Launch
Usage of Sky Analytics at launch will focus on two areas: AdSmart and On Demand.
For AdSmart campaigns advertisers and agencies will be able to:
Build and size an audience using demographic and lifestyle attributes, purchasing behaviour and location data from AdSmart's 1400 attributes
Set specific campaign goals and metrics
Define how often an audience will see an ad
Accelerated access to campaign pricing
Use impression, reach and frequency to report against campaign goals
For On Demand:
Direct access to Campaign reports
Detailed delivery reports and analysis, including impression heatmaps and content
Independently verified metrics through MOAT – details include Reached Complete %, Valid and Viewable %, Valid and AVOC % (AVOC = audible and visual on completion) and MOAT Video score.
MOAT metrics are available within the Analytics portal, giving clients and agencies independently verified metrics to assess the quality of the impressions they're buying from Sky Media.
Reports include Reached Complete %, Valid and Viewable %, Valid and AVOC % (AVOC = audible and visual on completion) and MOAT Video score.
These allow clients and agencies to see the exceptional completion rates, that are audible and in view, and served to humans via Sky Media's VoD product. The MOAT video score combines all the quality metrics that MOAT compile to give a like for like quality score of the impressions received. On a scale of 0-100, Sky Media score on average 98, demonstrating the value of our On Demand inventory.
Source: Sky Media