Singapore telco Singtel continues in its strategy of promoting how it can help bring families together, with an emotional Chinese New Year reunion story.
For those not well-versed in Chinese New Year traditions, the reunion dinner is one of the most important parts of one of the biggest celebrations in the Chinese calendar. For many families this involves traveling around the world to reunite, or otherwise spending the celebration apart.
Lian Pek, Singtel's vice president for Group Strategic Communications and Brand, said: "It's an increasingly familiar story, what with more Singaporeans working and studying abroad, and probably not just over Chinese New Year. While technology has helped us stay connected with loved ones in different continents, nothing beats having family present during important holiday seasons."
The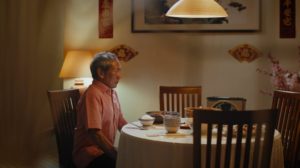 story follows Mr Lim, played by actor Lim Kay Tong, and his family, which includes a daughter based in Hong Kong and a son in Australia. In a case of crossed wires and familiar excuses, Mr Lim looks set to spend the year alone but (spoiler alert) the son and daughter manage to make it back.
Singtel, and its agency BBH, took a very similar approach for its Christmas ad in December, asking families to switch off and spend time together during the holidays.
"As a company devoted to connectivity, we also believe in making endearing and meaningful connections. We are big believers in keeping traditions alive, keeping ties strong, and staying connected to home," added Pek.
Mr Lim's Reunion was written in-house, while Singtel worked with Akanga Films and filmmaker K. Rajagopal to produce the film. It will be aired on Singtel TV and various social media channels from 19 January to 2 March.
Source: The Drum