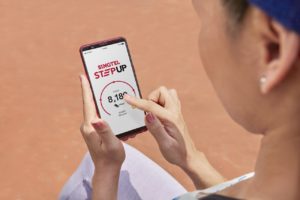 Singtel and AIA have launched the first phase of a major partnership that aims to incentivise healthy behaviours and grow customer loyalty for the two brands.
StepUp, in its first phase, is an incentivisation platform for Singtel subscribers that encourages people to walk the 10,000 daily step goal, in order to win points. The points can be used to claim data from Singtel, while later stages will see AIA host challenges, linking the Singtel customers to AIA's Vitality program.
The service will live within the MySingtel app, using the phones accelerometer or people's smart watched to track steps.
Yuen Kuan Moon, chief executive officer of Consumer Singtel, Singapore, said: "We want to encourage healthy lifestyles and wellness, and with StepUp, customers will be rewarded for their efforts to keep fit. We are always trying to find new ways to offer customers products, services and perks to complement their digital lifestyles. Our partnership with AIA marks a shared commitment to champion the importance of staying active for life."
For AIA, the partnership is part of a major activity around celebrating its Centennial year, of which its Vitality program is a key part.
Speaking at the launch, Singtel and AIA executives were keen to stress that there would be further phases to the partnership, though no timescale was given to this.
Patrick Teow, chief executive officer at AIA Singapore, said: " Our partnership with Singtel redefines what it means to enable healthier, longer, better lives in today's digitally-enriched world. Through leveraging Singapore's digital advantage, our common shared value is to make a real difference in people's lives, particularly when Singaporeans are spending more time on their digital devices such as their mobile phones and living sedentary lives. With StepUp, individuals and families can now take charge of their own health and integrate more active lifestyle habits into their daily lives."
Singtel and AIA will also bring on more brands, who will partner to add incentives into the platform. Launch partners include Puma, GeneLife and SingSaver. An ad campaign will launch to promote the service, including TV ads that are themed around dancers from different genres competing against each other.
To kick off the campaign, a competition has been launched, allowing customers who log at least 10,000 steps on one day between launch and 31 August to be in with a chance of winning a smartwatch.
Source: The Drum