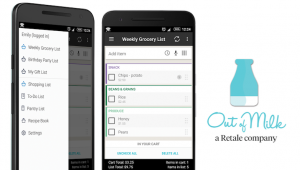 Location-based advertising company Retale has acquired Out of Milk, the most popular shopping list app in North America on the Android platform, with close to 10m downloads.
Retale, a Bonial.com company, is the leading US location-based mobile and digital company that conveniently connects shoppers with their favourite retailers and brands locally and essentially serves as an electronic circular without the hassle of print. By acquiring Out of Milk, Retale gets a top-rated app with a core of engaged shoppers that also delivers on Retale's core mission of providing mobile products and services that meet shoppers' needs at every stage of the customer journey.
Out of Milk, like Retale, is available on Android and iOS and helps simplify the shopping experience for customers. The app lets users create, manage and share shopping lists. Shoppers can add or delete items while keeping track of price, quantity, coupons and more. Plus, products can be added by typing, scanning barcodes, or even voice recognition. Lists can be shared easily with family and friends with the app, and are instantly synced as changes are made across devices and platforms, helping eliminate any confusion.
"Out of Milk is the top-ranked shopping list app on Android in the US and Canada," said Christian Gaiser, chief executive officer and founder of Retale. "It has tremendous scale in mobile shopping and addresses a key piece of the in-store customer journey as we, at Retale, strive to be the ultimate mobile shopping companion. By adding it to our business, we are able to meet the needs of shoppers at a different stage of the purchase funnel and nearly double our user base in the US."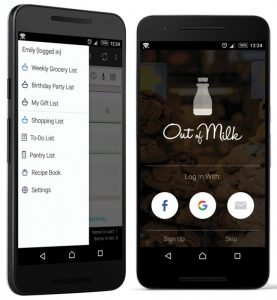 In addition to its size, Out of Milk's user base consists of highly engaged in-market shoppers. To date, they have built more than 25m shopping lists since the service launched in 2011. The app's usability – driven by a simple, intuitive interface and easy list-sharing capabilities – has driven its success among shoppers. Today, Out of Milk has 4.6 overall rating in the Google Play Store across 200,000 reviews.
"To deliver value to our users, as well as retail, agency and brand partners, it is critical to target every stage of the customer journey – from product and deal discovery at the top of the funnel to further down, when creating shopping lists in advance of a store visit," added Gaiser. "Out of Milk reinforces that focus and broadens the mobile capabilities we bring to market. We are committed to expanding our portfolio to continue to meet the needs of shoppers, either organically or with strategic acquisitions."
Founded in October 2013, Retale enables 25 million active users worldwide to discover and receive savings through ads and coupons, as well as get up-to-date store information through Retale's mobile app and website. All information is location-based, making it possible for shoppers to find the best offers on products at the most convenient location for them. 5,200 of the world's top retailers and brands, with 1.4 million store locations globally, currently use the Retale platform, including JCPenney, Big Lots, Target and Macy's.
Source: The Drum