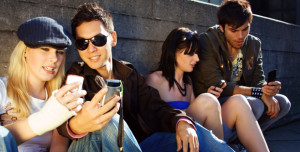 64 per cent of consumers have been influenced to purchase by a mobile ad – a figure that rises to 80 per cent among millennials. But 43 per cent are more likely to buy from an organisation that sends them relevant advertising on their mobiles. And perhaps unsurprisingly, 76 per cent are more willing to accept relevant ads on their mobile device.
These are some of the key findings of a new report from advertising firm Quantcast titled: Mobile + Me – The Remodelled Brand Opportunity. The report highlights the millennial move to a mobile-first world and the opportunity it brings for brands and advertisers.
The research was commissioned by Quantcast and conducted by Censuswide, who polled 3,101 consumers in the UK, France and Germany with a mobile phone aged 16+ between 4 December 2015 and 6 January 2016.
The report reveals that when consumer expectations are not met, they are disturbed during their "me time". The lack of relevance for consumers negatively impacts their overall perception of a brand. 51 per cent of consumers found mobile advertising to be more intrusive than ads received on their desktop or tablet. However, when expectations are met, brands are rewarded. The research found that 37 per cent of millennials believe people's awareness to brands is heightened by advertising on mobile devices.
The report also found that 50 per cent of millennials use their mobile as a research tool, using mobile devices to research purchases five times a day. Millennials also make an average of two purchases a week via their mobile, and 48 per cent of them said they would be more influenced by more creative advertising.
"We know mobile advertising works when delivered in the right context and is relevant – it drives brand engagement," said Quantcast UK managing director, Matt White.
"The report reveals the gap between the ads delivered to consumers and their high expectations from brand advertisers. Consumer behaviour on mobile has evolved. With 45 per cent of millennials using mobile devices to shop during their time spent relaxing, they have higher expectations of mobile ads and rightly so, demand more relevancy and creativity from brand advertisers.
"The report clearly shows that the brand opportunity on mobile has been remodelled through consumer behaviour and interaction with their mobile devices. Today's successful marketers are using data to identify consumers in the research phase, presenting them a clear opportunity to deliver relevant mobile advertising. In turn, driving awareness and direct response through a holistic desktop and mobile web ad strategy to influence behaviour."
Source: Mobile Marketing