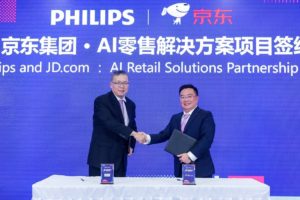 Health technology firm Philips has partnered with Chinese eCommerce firm JD for an AI-driven retail solution to maximise the performance of Philips' flagship store in China. 
JD will leverage its AI technology to provide a comprehensive suite of solutions, including user portrait analysis, user behaviour analysis and user motivation analysis. JD will assist in business decision making, providing guidance on product design, marketing and advertising, user engagement, branding and store operation.
JD's solution will enable Philips to tap into insights from both structured and unstructured data, including social media, customer reviews, customer service feedback, product pages and ads, to identify what motivates different groups of consumers to buy.
"Successful retail is about connecting with your customers, and giving them whatever they want, whenever and wherever they want it," said Bowen Zhou, vice president of JD.com and president of JD AI. "With AI technology, JD is helping our partners move from marketing to many, to marketing to one, in an efficient and cost-effective way."
"For over a century, Philips has been embedding the "Innovation for You" philosophy" into our products, solutions and partnerships," said Jyh-Ching Yaur, CTO of Philips Greater China. "Leveraging JD's AI competence in this innovative initiative, we will undoubtedly provide better products and services to our customers, especially in the retail space."
Source: Mobile Marketing Magazine