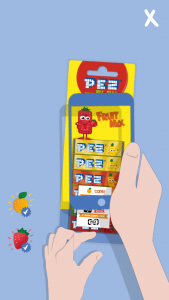 Austrian sweet brand Pez, famous for its iconic dispensers, has partnered with AR firm Zappar to enable consumers to interact with PEZ characters via AR experiences in the new PEZ Play app.
When the app is downloaded, gamers are invited to help restore 'PEZ World' to its former glory by finding Candy Codes that appear on PEZ refill pack inlays. Scanning a Candy Code unlocks one of six games and characters, including timing and skill-based challenges and puzzle games.
In addition to hunting down the Candy Codes, app users can employ the smartphone's camera to place PEZ characters in the real world using Zappar's tech, to pose with their favourite character. By using Zappar's new 'Face Finder' feature users can play with fruit-themed headgear where they can turn themselves into a strawberry or a lemon.
"Candy lovers around the world can now feel closer than ever to PEZ and interact with us on another level, in the palm of their hand," said Gabriele Hofinger, head of marketing at PEZ International. "AR and mobile gaming gives a new generation of PEZ consumers the opportunity to interact with our brand and share their adventures as they explore PEZ World."
Source: Mobile Marketing Magazine