When you're running on a treadmill like a compulsive little hamster, or just going about your daily business, you may imagine yourself as the star of your own modern Super Mario-style video game, bounding across a brightly colored screen and leaping dexterously over obstacles to rack up points.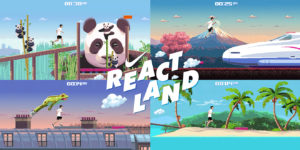 But lucky folks in China have the chance to be just that, thanks to a delightful little stunt from Nike and Wieden+Kennedy Shanghai.
To highlight the characteristics of the shoe maker's new "Epic React" model—which contains technology the brand describes as bouncy, soft, light and durable—the agency set up a rig that let consumers test drive the shoes with a special video game called "Reactland."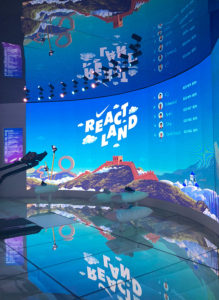 In the case study video, players arrive at the glowing venue, lace up a pair of sneakers and step in front of a camera to create a digitised avatar. Then, they hop on a treadmill in front of a giant screen and jog away, leading a pixelated version of themselves across a variety of landscapes from around the world—over city rooftops, through forests and deserts, past dancing giant pandas and the Great Sphinx of Giza.
A handheld trigger controller lets them jump the their characters onto springboards and over planes, presumably to further reinforce the bounciness of the shoe.
In all, it's a fun, interactive and memorable way to demonstrate the product, and a great on-brand twist on the 8-bit-runner marketing category. Naturally, participants get a 10-second video of their gameplay so they can share it on social media. The game is available for visitors to try in select stores in Shanghai, Beijing, Guangzhou and Chengdu.
Source: AdWeek