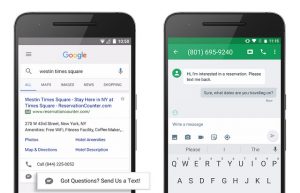 Nobody likes receiving junk texts – but what if a potential customer indicated they wanted to hear from you?
That appears to be Google's thinking behind click-to-message ads, a new AdWords feature that invites consumers to send SMS text messages to companies that provide products or services they might be interested in using.
"If you're inviting a friend to dinner or asking them about the best hotels in New York City, you're probably doing it through mobile messaging," Amit Agarwal, a senior product manager with Google's mobile search ads division, wrote in an Oct. 17 blog post.
"And people aren't limiting their use of messaging to social communications – 65 per cent of consumers say they'd consider using messaging to connect with a business to get information about a product or service, or to schedule an in-person appointment."
The service, which Agarwal and other Google representatives say will be rolled out globally "in the coming weeks," adds a texting prompt to the existing phone number, directions, website, hours, and other information that appears when a Google search returns a particular business.
If the user chooses to send a text message, click-to-message launches their SMS app with a pre-written message tailored to the company's product or service.
"For example, if you're a travel advertiser and someone messages you after searching for New York City hotels, they can send or edit your pre-written message text, 'I'm interested in a reservation. Please text me back with more information,'" Agarwal writes. A business representative can then text the user back at their convenience, knowing their message will at least be read, rather than blocked sight unseen.
While the service has not yet been widely released, several advertisers have already taken advantage, and the results have been positive," Agarwal says. One client, Auto & General Insurance Company Ltd., reported that click-to-message delivered an 80 per cent higher conversion rate compared to similar channels.
"Besides giving users a new way to get in touch with us, we feel this is by far the fastest and most cost-effective way to connect with them," Gavin Parker, A&G's paid search manager, said in a statement.
Businesses and marketing representatives interested in implementing click-to-message can learn more about the service here, while those taking advantage can read Google's best practices guide here.
Source: ITBusiness