Subscription-based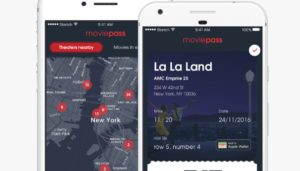 movie ticketing service MoviePass tracks your every move and it's not afraid to admit that – though it claims to have no intentions of selling this data on.
Speaking during a presentation at the Entertainment Finance Forum in Hollywood, California, the app's CEO Mitch Lowe told the audience that "we know all about you", according to Media Play News.
"We get an enormous amount of information," he said. "We watch how you drive from home to the movies. We watch where you go afterwards."
The controversial comments from Lowe are interesting seeing as the app's privacy policy only states that the user's location is checked to "develop, improve, and personalise the service". And nothing about tracking people while they're at home or at another location would seem to help any of that.
The collection of this data, according to Lowe, is about achieving the company's vision "to build a night at the movies", which would include suggesting places that subscribers could have food before or after a cinema trip among other things.
"We are exploring utilising location-based marketing as a way to help enhance the overall experience by creating more opportunities for our subscribers to enjoy all the various elements of a good movie night," said a MoviePass spokesperson. "We will not be selling the data that we gather. Rather, we will use it to better inform how to market potential customer benefits including discounts on transportation, coupons for nearby restaurants, and other similar opportunities."
In addition to his interesting comments, Lowe also said that MoviePass now has over 2m subscribers and accounts for six per cent of ticket purchases in the US. The company expects to reach 5m paid subscribers by the end of the year, accounting for 20 per cent of ticket purchases.
Source: Mobile Marketing Magazine