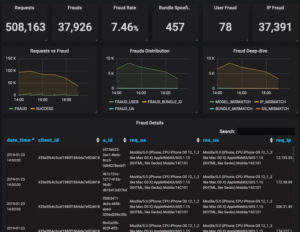 Mobiquity Technologies, announced AdCop, the advertising industry's first transparent ad fraud reporting system to be made available free to brands and marketers as a beta testing program independent from Advangelists.
Originally designed as a proprietary Advangelists platform feature, AdCop monitors for programmatic fraud post bid impression. If AdCop suspects fraud, the Advangelists platform renders a blank page instead of an advertiser's advertisement as a brand safety measure. In addition, the platform's comprehensive reporting provides advertisers and publishers full transparency and details around the fraud detected. 
Historically, advertisers seeking to protect themselves would need to blacklist app publishers and web sites with even minor levels of fraud.  Removing these apps and web sites would inevitably hinder the size and scale of the advertiser's audiences. With AdCop, a brand can continue to achieve campaign scale, but is inherently protected from having their ad display on a fraudulent site, or adjacent to unknown or unwanted content.
Premium publishers also benefit from AdCop, knowing that fraud networks can not harm their reputation with brands seeking to protect themselves, or hinder their ability to capture ad revenue as brands build blacklists.
"Fraud hurts everyone in the industry. We believe programmatic media should be fully transparent, from cost transparency through to fully understanding the nature of fraudulent activity within your advertising partners," said Deep Katyal, CEO of Advangelists. "Other platforms will report on fraud at a group level, but AdCop goes further, reporting impression by impression the app, placement, and inventory source responsible for fraud. More importantly it enables brands to actively protect themselves."
"The industry did a good job of cleaning up desktop programmatic fraud last year, but as mobile ad spend is growing at 20% in 2019, the fraudsters are staying ahead of the game by moving to mobile environments that are far more complicated to police," said Brian Stoller, CMO of Mobiquity Technologies, and former media buyer. "We've observed some sectors of fraud growing at rates above 50%."
"We believe so strongly in our product, that today, I'm excited to announce our free AdCop beta program," continued Mr. Katyal. "Participating beta partners can monitor their ad campaign impression level fraud for free; they do not need to be a Client of Advangelists or purchase media through our platform."
The Beta program is available without cost to every advertiser. Beta monitoring participants will be able to access a dashboard to monitor fraud at an impression level. 
Source: Mobiquity Technologies