Mobile game developers are increasingly implementing "rewarded ads" that players can view while playing in exchange for in-game prizes, The Wall Street Journal reports.
This comes amid a big upswing in advertising in games — 78% of the 50 highest-grossing gaming apps in the US featured ads in the first half of this year, compared with 45% in 2016. Candy Crush developer King Digital is among those turning to mobile game ads; after discontinuing them in 2013, it has begun testing them again, and analysts expect the in-game ads could generate the company $1 billion in revenue over the next two years.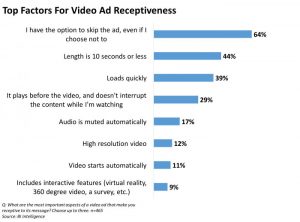 The shifting focus on ads has been a boon for mobile-game ad revenue. Mobile games are on track to generate $39.8 billion in ad revenue globally, up nearly 90% from $21.1 billion in 2015, according to App Annie. And this figure is projected to reach $49 billion next year.
Rewarded ads can help diversify developers' revenue streams, resonate better with users, and help keep users in-app longer:
Rewarded ads can help developers rely less on in-app purchases. Gaming apps' single greatest individual revenue contributor is in-app purchases, as these purchases drive 39% of total publisher revenue, according to AdColony. However, these purchases only come from a minority of a game's dedicated players, according to the Wall Street Journal. Implementing rewarded ads can help developers further monetise existing users not making in game purchases.
They also resonate better with users. Although video ads can be more engaging than banner ads, users may feel like they're wasting time if they're forced to sit through one. On the other hand, rewarded ads can be more tolerable because the user receives something for their trouble. Additionally, users who choose to view an ad — as opposed being forced to do so — will likely be more engaged when viewing, which could give brands a bigger window of opportunity to effectively convey their message.
And they can help with user retention. Almost 62% of developers said video ads with rewards increased or stabilised user retention, according to a 2016 Unity Technologies survey cited by The Wall Street Journal. The increased retention could be due to the rewards themselves, rewards giving users in-game advantages — perks users might normally have to pay for — can encourage a user to play for longer periods of time.
Source: Yahoo! Finance