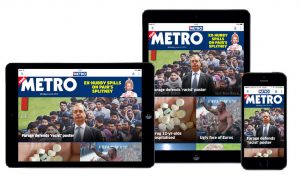 UK news publisher Metro, a DMG Media brand, has relaunched its app on iOS and Android, as well as launching a new digital edition via web, after teaming with developers Kaldor.
The new Metro app offers users two issues every weekday for free, providing readers with news, sport, celebrity, features and more, automatically delivered to smartphones and tablets with responsive design used to adhere to different screen sizes.
The Metro app uses Kaldor's Pugpig publishing platform to plug straight into the paper's existing editorial systems, enabling editors to create beautifully designed mobile editions with almost no effort, and also hosts video content from the paper.
"Metro is delighted to be releasing an improved version of our digital editions, and looks forward to users enjoying the rejuvenated and sleeker design," said Martin Ashplant, digital director of Metro. "We're now providing a one-stop-shop for advertisers, something unique in the marketplace that no other newsbrands are doing. And following the huge success of our evening edition on tablet, it's great to see it now become available on phone too."
The app also includes interactive features, integrating responsive jigsaws and crosswords, as well as including dynamic ad units for marketers who deal with the publisher.
"This has to be our biggest launch to date, and possible the most exciting," said Jonny Kaldor, CEO and co-founder of Kaldor. "Together with the Metro team and our friends at Clock, we've built an outwardly looking simple, yet incredibly sophisticated app using our standard off-the-shelf Pugpig product. And by tightly integrating with their own editorial system, the Metro team is now able to publish content faster and at lower cost than ever before."
Source: Mobile Marketing Magazine