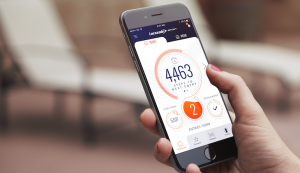 Lucozade Sport has launched a new health app for its Made to Move campaign, helping increase engagement with consumers and yeilding a potentially valuable stream of data on them.
The new app will offer hundreds of daily and weekly prizes as part of the Made to Move campaign's attempts to encourage one million people in the UK to exercise more.
It will build on earlier digital activations from the campaign which included live stream work out sessions on its website which were taken by heavyweight champion Anthony Joshua.
Mirroring the popular Fitbit model, the new app works on a step-based system where users are automatically entered into a daily draw for every 5,000 steps taken. Many of the prizes on offer come from Lucozade Sport's sponsorship partners including Fitbit, the FA and Tough Mudder. The daily prizes include Fitbits and free entry for Tough Mudder events.
Users who complete 5,000 steps three times a week will be entered into the weekly draw where they stand to win prizes such as a weekend for two at the Tour de France, trips to Australia, Dubai and San Francisco as well as FA Cup Final tickets.
Lucozade Sport marketing director, Steven Hind, said the app was designed to "help people to enjoy the benefits that come with leading a more active life".
He added: "We hope that it will provide people with an additional incentive to make moving more a part of their everyday lives – whether it's a cycle around the park or taking on a new running challenge."
As well as tracking user steps, Lucozade Sport will stand to benefit from data which the app will collect on users, such as their location and email addresses. The app also aggregates data from existing health apps, including Apple Health, Google Fit and Fitbit.
Source: The Drum