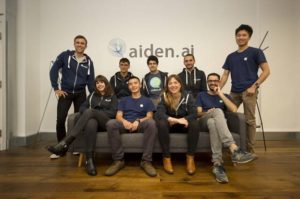 Aiden.ai, a London based AI analytics startup, announced that it has raised a $1.6 million seed round to fuel the company's rapid growth and the development of the first AI powered marketing analyst.
The round has been led by Partech. Other notable investors include Sophia Bendz, who previously led marketing at Spotify for 7 years and Nicolas Pinto, founder of Perceptio which was eventually acquired by Apple.
Reza Malekzadeh, partner at Partech and early VMWare employee, will join Aiden.ai's Board of Directors.
"We believe Aiden.ai is building an innovative solution for marketers at precisely the time it is needed most. Marie and PJ's vision for the future of data and analytics harnesses the recent advances in the fields of machine learning and natural language processing to create a tool that is set to change the way marketers do their job," says Reza.
The company has been cofounded by Marie Outtier (CEO) who has a background in mobile marketing and technology and PJ Camillieri (CTO) who previously spent 10 years at Apple and has extensive experience working with Natural Language Processing and virtual assistants.
With this round of funding Aiden.ai has also announced the launch of Aiden on the market.Designed for mobile app marketers, Aiden uses machine reading to analyse large sets of paid advertising data, and proactively make changes to improve ROI. Unlike traditional dashboards where the user needs to pull data manually, Aiden provides a simplified experience to help marketers manage their multichannel paid acquisition campaigns and make the most of their investments.
Marie explains: "Today's performance marketers are bogged down with data coming from multiple sources. This problem isn't new, but our approach of teaching a software to act like a real analyst would, has never been explored before. It's a new generation of software, one that listens, learns and acts."
"To ensure that Aiden provides accurate and actionable insights that can actually make a difference to our users, we have also invested in a team of user acquisition experts to review and refine all insights generated automatically," says PJ.
This last round brings Aiden.ai's total funding to $2.3m, after an initial pre-seed round of $750k in March 2017.
Source: Aiden.ai