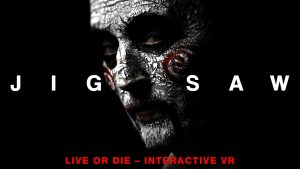 Film studio Lionsgate and Unity Technologies, the leading creation engine for gaming and interactive entertainment, have partnered to create a first-of-its-kind virtual reality ad to support the release of Jigsaw, the latest film in the blockbuster Saw horror franchise.
Built using Unity's engine, the Jigsaw 'Virtual Room' interactive ad will surface in VR apps made using Unity, and will enable consumers to engage with real props from the movie rendered in VR and explore virtual shrines to each of the previous films in the franchise. The ad even features custom voice-over work by actor Tobin Bell.
The Virtual Room ad is part of a scalable campaign, offering an immersive VR experience that is complemented with mobile video across Unity's ad platform, enabling Lionsgate to reach millions of fans through a single solution.
"The Jigsaw Virtual Room is just the beginning," said Julie Shumaker, vice president of advertiser solutions at Unity. "Now that we've proven broad-reaching, deeply immersive ads are possible, we expect to see this trend continue with formats including VR, AR, 360 mobile video, and playables.
"Brands will have the opportunity to tell their story in a way that elicits emotional, memorable interactions. As the development platform with the highest reach in AR, VR and mobile games, we are excited to see what marketers will do next."
The Jigsaw Virtual Room will also be distributed naturally within two VR apps: the Samsung Internet for VR app and Spiraloid's Nanite Fulcrum. When Samsung extended its mobile web browser and built a VR web browser for Gear VR users, they made the core app in Unity, and as a result, the firm is able to seamlessly integrate the campaign into the browsing experience. Nanite Fulcrum, which is available on the Gear VR aand Oculus Rift, is the next step in the evolution of the graphic novel, and users will be able to enter an exclusive Jigsaw comic book panel while exploring the app where the ad will be served.
"Advertising in VR combines the storytelling power of immersive content with the guaranteed reach of a media buy," said David Edwards, senior vice president of digital marketing at Lionsgate. "We're thrilled to have worked with Unity on this campaign, bringing Jigsaw into an engaging VR ad experience."
Source: Mobile Marketing Magazine