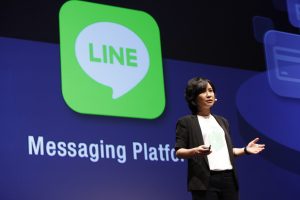 Japanese instant messaging platform Line has launched a messaging platform for the workplace, as it looks to do battle with the likes of Slack, Facebook and Microsoft.
According to Tech in Asia, Line Works is a paid service, after a free 30-day trial, with subscriptions ranging from $2.70 to $8.90 per user per month. It features stickers, similar to those on the instant messenger, and traditional features such as cloud storage, calendars and address books. It is based on Works Mobile, which is run by parent company Naver and already boasts 68m users in Japan.
Line's messaging platform has been losing users but it will hope this new workplace venture will bring life back to the company. However, that is going to be a lot harder than it sounds.
Slack leads the way in the work-based messaging market – hitting 4m daily active users back in October and introducing an enterprise edition within the last few days. Meanwhile, Facebook launched its Workplace last year and Microsoft Teams is part of its Office 360 suite.
Source: Mobile Marketing Magazine