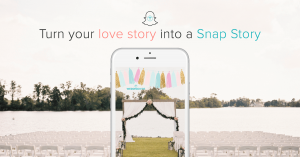 Lilly Pulitzer is designing four complimentary beach wedding-themed filters featuring its signature prints for WeddingWire users, demonstrating how marketers can up the ante with their Snapchat strategies by inserting themselves into consumers' most photo-worthy special occasions.
The resortwear retailer is throwing its hat into the Snapchat marketing ring by rolling out four free exclusive filters for online marketplace WeddingWire. Lilly Pulitzer alerted its Instagram followers to the news last week and invited them to click the link in its bio to be taken to WeddingWire's mobile site, where the themed filters can be downloaded.
"These Snapchat filters play fully into the prevailing trend of event-based photo personalization," said Laura Sossong, senior consultant at Boston Retail Partners. "As illustrated by the popularity of personalized hashtags for weddings, this has been particularly relevant in the nuptials space.
"The Lilly brand is a consummate fit for brides hosting beach weddings, so it should certainly play well with the target consumer base."
Snap-happy at weddings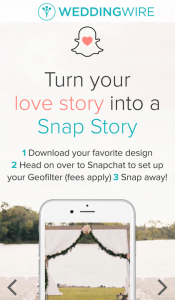 Lilly Pulitzer uploaded an Instagram post showcasing a makeshift wedding altar on a beach with a flowered filter superimposed over it. The photo's caption informed followers that their beach wedding Snaps can now be captured with print – a nod to Lilly Pulitzer's well-known signature prints.
Instagram users were encouraged to click the link in the brand's bio, which took them to WeddingWire's Snapchat filter page. Consumers can also access this page by visiting here.
There, individuals are invited to turn their love story into a Snap Story by downloading their favorite filter design from a list of options, opening the Snapchat application to set it up and taking photos that can be adorned with the printed filter.
Several of the available filters on WeddingWire's site contain fees for downloading, but all of Lilly Pulitzer's filters are free.
Once site visitors scroll downward, they will see the exclusive beach wedding filters designed by the Lilly Pulitzer team. Options include a pink floral filter titled "Barefoot Princess," a gold-adorned filter called "Hanging with Fronds," a white shell-themed filter named "Shellabrate" and a filter featuring yellow and pink shells, called "Shell of a Time."
Consumers may tap on their favorite filter to save it onto their smartphones and interact with it on Snapchat.
A very mobile occasion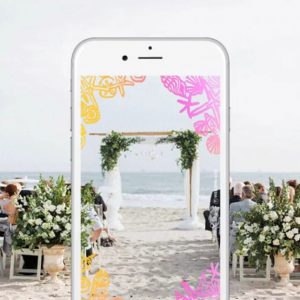 Lilly Pulitzer fans will likely download the filters if they are planning to attend a beach wedding in the near future – even more so if any of the filters happen to match their Lilly dresses.
While plenty of retailers have rolled out sponsored Snapchat geofilters in the past, many of those were only accessible within the confines of their bricks-and-mortar stores. The ability to download Lilly Pulitzer's wedding-themed filters for constant use plays on the enticing aspect of novelty.
Special events marketers have been carving out their place on mobile with increased fervor lately, suggesting that more brands may soon introduce occasion-themed filters for Snapchat users.
Several months ago, WeddingWire reaped the benefits of a social sweepstakes that received more than 15,000 entries in six weeks, further highlighting the significant potential for special occasion marketers to connect with customers on mobile.
"Retailers continue to experiment with the potential of Snapchat as a commerce platform," Ms. Sossong said. "Based on its level of success, others are likely to follow Lilly Pulitzer in testing similar campaigns.
"Social media efforts will be most effective when the medium chosen aligns with the intended brand image and target market."
Source: Mobile Marketer