VSP Global announced the launch of Level smart glasses, featuring activity-tracking technology seamlessly embedded inside the temple of an optical frame. The technology tracks activity via an accompanying smartphone app, and as users reach daily step goals they earn points redeemable for a donation of vision care services to individuals in need.
"We're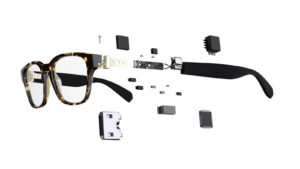 thrilled to bring Level smart glasses to market and offer our members an opportunity to apply their vision care benefits toward the purchase of a meaningful wearable device," said Kate Renwick-Espinosa, president of VSP Vision Care. "Level combines expertise from the best of VSP Global's businesses, including healthcare, fashion, technology and philanthropy. And we're especially proud to launch Level in partnership with VSP network doctors."
Level smart glasses began in 2015 as the Project Genesis prototype within VSP Global's innovation lab, The Shop. A partnership and academic study with USC Center for Body Computing soon followed in 2016, with results published last September in the NEJM Catalyst (see "Why People Stick with or Abandon Wearable Devices").
"Our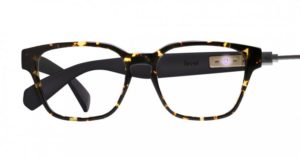 work with USC Center for Body Computing allowed us to apply a unique degree of academic rigor to the Level project," said Jay Sales, co-director of the VSP Global innovation lab, The Shop. "The opportunity to debut the prototype with a large test population was a critical step to first validating both the form factor and the technology. We knew we wanted to create something of value, not just another wearable novelty."
The Level technology, located inside the left temple of the frame, tracks steps, calories burned, distance, and total activity time. Users can also connect with friends and even locate a misplaced frame through the app's "Find My Glasses" feature.
Level's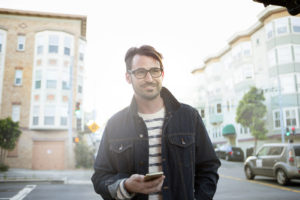 charitable giving component also syncs with VSP Global's Eyes of Hope initiatives and awards points to users who reach their daily step goals. Once 50 points are achieved, a comprehensive eye exam and eyewear are gifted to an individual in need. Level users can select for their donation to benefit one of four demographics, including veterans, children, the elderly, or individuals affected by homelessness.
"As proud as we are of the technology and the platform, we also knew that to be considered truly 'smart,' these frames had to be beautiful and well designed—period," said Leslie Muller, co-director of The Shop. "Eyewear is a medical device, a fashion accessory and the world's oldest form of wearable tech. To honor that legacy, we combined industrial design, engineering and traditional eyewear craftsmanship to create something seamless and fashionable, too."
Level is available in three unisex frame styles, each designed by The Shop and produced in Italy through VSP Global's eyewear division, Marchon. The designs feature hand-polished cellulose acetate, stainless steel accents and injection-molded temples. Each frame is available in four colors, including black, classic tortoise, slate and grey tortoise.
Level will be sold through hundreds of independent optometry practices participating in the VSP Global Premier Program within select U.S. markets. The product will launch initially in Sacramento, CA in March, followed by additional market rollout in April to Seattle, WA; Portland, OR; Denver, CO; Minneapolis, MN; and Washington, D.C. Visit the Level website for more information on availability in your area.
Based on initial consumer demand and feedback, plans for wider market rollout will be announced at a later date.
"As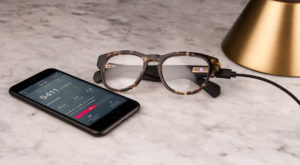 an optometrist, I'm excited about the rise of wearable technology and to serve ­­as a resource for patients who are interested in smart glasses," said Dr. Matthew Alpert, VSP Global board member and network doctor. "Level incorporates technology into eyewear in an accessible and meaningful way. And by partnering with VSP network doctors to sell Level, we want to ensure eye health—including an annual, comprehensive eye exam—remains top of mind for anyone interested in smart eyewear."
Level smart glasses will have an MSRP of $270, which excludes lenses. Final pricing will vary based on lens enhancements, the application of vision benefits, and provider location. Most VSP members can apply their vision benefits to purchase Level smart glasses.
Source: VSP Global