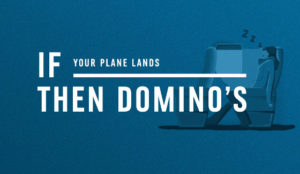 Denver-based independent creative studio Legwork recently teamed up with Crispin Porter + Bogusky (CP+B) to create If This, Then Domino's, a new platform using IFTTT technology which allows customers to automatically order Domino's pizza every time a particular situation, previously chosen by the customer, occurs.
It could be your birthday, a bill getting passed in Congress or alien life being discovered somewhere in the outer space—you can pick from thousands of triggers and expect your Domino's Easy Order every time that event happens.
In this collaboration with CP+B, Legwork handled the UX, design, development, illustration and animation for Domino's new website.
Source: Little Black Book