KLM passengers can now ask for directions to the nearest restaurant, clothes store, ATM, taxi rank and more by sending an emoji to the airline on its Messenger chatbot.
In a video announcing the update, the airline shows how users can simply send a burger emoji on the KLM Messenger chatbot, along with their location, and immediately get sent the location of the nearest burger joint in the area.
The airline has been fine-tuning the service for over six months, created by digital creative agency Code D'Azur.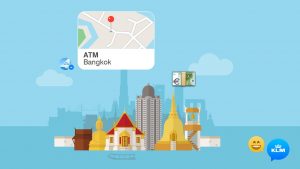 "KLM flies people all over the world and knows how difficult it can be to quickly find your way in unknown places, and therefore offering this new emoji service is a logic next step," said Tjalling Smit, senior VP of e-commerce Air France KLM.
It's the latest attempt from the airline to prove to brands that the combination of bots, AI and human is the future of efficient customer service.
In 2015 KLM became the first airline to bet on Facebook Messenger, offering the option to have booking confirmation and boarding passes sent via the platform as well as answer any queries. It was also the first airline to sign up to use Facebook's developer tools that helped shape its Messenger chatbot product.
"We believe we should be where our customers are and therefore KLM and Messenger are the perfect fit," Smit added.
Nik Nieuwenhuijs, chief executive of Code D'Azur added: "As emoji are indispensable and KLM wants to inspire people on their journey we think this new service is a perfect solution to help travellers all over the world. It's great working closely together with KLM and Facebook to launch innovative services on Messenger. A promising start and even cooler initiatives are coming."
Source: The Drum