Klevio,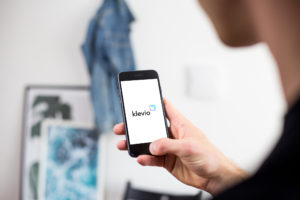 a smart home startup, has just released its first product, Klevio One, a smart intercom that lets you open doors from anywhere. The company is using smart technology to change the way we manage access to homes, offices and apartment buildings. Klevio reduces the stress and hassle of having to manage keys and access. Since joining forces to develop smart home solutions, the founders of onefinestay and CubeSensors have notched their first success with Klevio One.
The initial keyless entry concept was prototyped at onefinestay who faced the challenge of managing access for thousands of homes. After the exit to Accor in 2016, onefinestay founder Demetrios Zoppos partnered with CubeSensors and Zemanta founder, Aleš Špetič, and CubeSensors CTO Marko Mrdjenovič, to create Klevio. onefinestay co-founder Greg Marsh is an early investor in the company, alongside LocalGlobe's partner Robin Klein, a prominent angel investor. To date Klevio has attracted £1.2 million in funding.
The Klevio team, based in London and Ljubljana, is pioneering innovation in an activity we all take for granted: opening doors. Physical keys have been around for thousands of years and Klevio's team – with several startups under their belts – are leading the charge in bringing access into the digital age.
Rather than replacing your lock and keys, Klevio One connects to an existing intercom system inside a home and is operated via an iOS or Android app. Klevio can be fitted in any home with no need to change existing locks. It works with multiple doors and there's no need to modify the communal area of apartment buildings when installing it, since the device is located within the flat. The app connects to the device, allowing users to open their private and communal doors from anywhere with a swipe and press of a button.
Demetrios Zoppos,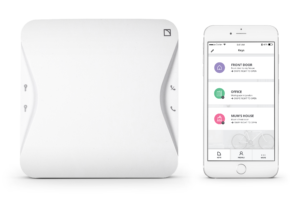 Co-Founder and Executive Chairman at Klevio, commented: "Keys were invented thousands of years ago, and having a piece of metal sitting in your pocket today feels odd. Now imagine managing thousands of keys for lots of properties, the logistics are complicated and it's a time sink. There are large benefits for businesses and homeowners alike to move to a digital solution. Besides, opening a door with your phone while you're miles away from your door is magical and can have a huge impact on your lifestyle."
Klevio is complementary to traditional keys rather than a replacement. It provides users with new options to manage their homes and properties without any compromise on security. Users keep their existing locks and old keys as a backup, and the use of Klevio is not obvious to anyone outside the building.
Aleš Špetič, Co-Founder and CEO at Klevio, added: "Getting inside your home with a physical key is archaic. This technology hasn't changed significantly in over 4,000 years. Klevio is here to reimagine the future of living. Technology is changing our habits in many ways: from how we relate to one another to how we live our daily lives. Even the money we use is electronic, so why aren't keys the same? But like Apple Pay, we don't replace your credit card or cash, but we improve your user experience by giving you options, providing customers with a service that gives them peace of mind and the gift of time."
With Klevio, users can also share and revoke digital keys instantly, a feature that comes in handy whenever someone needs access to a home when the owner is not present, or to let in an Airbnb guest or a contractor.
Greg Marsh,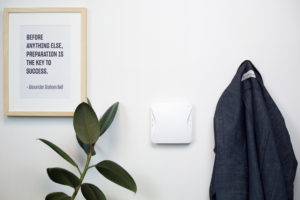 onefinestay co-founder and an early investor in Klevio, said: "Managing multiple properties is hard. At onefinestay we managed thousands of high end homes in city centres. And when we realised how much time we were wasting getting keys to our guests, we started working on the keyless entry system that has today been perfected as Klevio One. Klevio saves time for apartment hosts, property managers and householders and, as a smart home device, it also improves security. I'm proud to see something we invented at onefinestay become a category leading product in its own right. More than anything that is a testament to the hard work and expertise of the Klevio team."
Currently, Klevio is available in London where 1,000 users tested digital keys in a successful 10-month pilot. The company has plans to expand coverage across the UK and beyond.
Source: Klevio