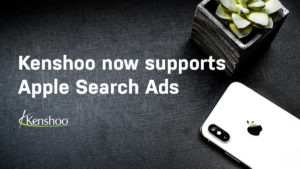 Kenshoo, a global leader in marketing technology, announced it has become an Apple Search Ads Authorised Reseller, adding support for Apple Search Ads to the Kenshoo Marketing Platform.
Apple Search Ads helps marketers with app discovery by offering them the opportunity to promote their app at the top of relevant search results on the App Store in select markets across North America, Asia Pacific and Europe, including the U.S., Japan and UK.
The new offering delivers the full power of Kenshoo to manage Apple Search Ads, including account creation, keyword discovery, campaign management, tracking and reporting. Apple Search Ads' tools to efficiently drive app downloads combined with Kenshoo's deep expertise in search marketing delivers the next level of performance for mobile app marketers.
With support for a variety of premium publishers in addition to Apple Search Ads, advertisers can now manage all their mobile app ad campaigns in one place, at scale, saving time and making the best business decisions using cross-publisher data.
From discovery, to stores, to retention and beyond, Kenshoo provides all-in-one technology to help mobile app marketers engage the right users in the locations and moments that matter and retain them for the long term. Kenshoo enables Apple Search Ads advertisers to scale and optimise campaigns toward custom in-app actions to engage app users, proven to boost the lifetime value (LTV) of app users by continuing to drive app engagement over time, ensuring user retention.
"We're humbled in having the opportunity to forge this relationship, recognising Kenshoo as a driver of advertising innovation, with the presence and proven capabilities to help mobile app marketers capitalise on this historic opportunity with Apple Search Ads. Kenshoo's marketing platform ensures marketers have the best-in-class solution for decisioning, optimising and automating their mobile app campaigns," said Yoav Izhar-Prato, CEO, Kenshoo.
Source: Kenshoo