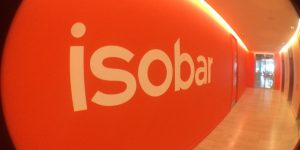 Isobar, the Dentsu Aegis Network's agency in Brazil, announced a new area called Data Insights. The main goal is to work on data analytics and interpretation in different platforms, supporting the agency's efforts in advertising campaigns.
Danilo Futema, who has experience in business analytics working for the agency Cubocc, is the leader of the area. Data Insights was defined as one of the key areas of the 'Connections Strategy' department — how Isobar calls the team created after they unified media and planning in order to increase the agency's efficiency. Futema will report to Aloisio Pinto, VP, Connections Strategy, Isobar.
Isobar has been publicly speaking about how data is the "new currency of the digital economy" and emphasising their efforts to create a dedicated team to work on data. The main objective is to bring more intelligence to communications operations as a whole.
Consumers spend almost half of their data plans on ads in Brazil
Consumers spend up to 40% of their mobile data plans on advertising in Brazil, according to a study made by the Brazilian Federation of Telecommunications (Febratel) and the National Personal Mobile Phone Services Union (SindiTelebrasil).
The research highlighted how consumers "involuntarily" spend their data with ads, especially when they are automatic or when they load before giving access to videos or media that the mobile user wants to reach.
They mention the "increased advertising market" and the heated local scenario as the main drivers of the numbers, especially video ads. According to the study, on average, at every R$10 (£2.39) that the users top up, R$4 (£0.95) goes to taxes, and from the remaining R$6 (£1.4), R$2 (£0.57) is spent loading mobile advertising.
The study also acknowledged that Brazil has one of the highest tax fees on mobile data, compared to the other 18 countries included in the survey. Still, a fast-paced market and its growth might change the local scenario. The survey mentions that the advertising market should take advantage of the fact that ad blockers are not widespread locally, investing in research and development of better ad formats aiming to achieve a better performance in terms of data usage.
Brazil represents 40% of YDigital's revenues
Even with an unstable economic and political scenario, the Brazilian operations of YDigital have reached 40% of the company's global revenues. "Considering the mobile investment, we're only starting. Talking about DSPs in 2012 was the same thing as talking about a UFO. Today, we are able to reach 80% of the mobile inventory available in the country, and there is huge unexplored potential," mentions Edison Maluf, company partner, YDigital Brazil.
The Portuguese digital ad agency has had offices in Sao Paulo, Brazil since 2012, alongside nine other offices: Bogotá, México DF, Singapore, Dubai, Johannesburg, London, Madrid, and New York. Today, they can deliver media in 84 countries.
"[In Brazil] mobile works very well when completing the assertiveness of ad pieces, and this mindset should grow even more next year", says Maluf. He mentions that YDigital have integrated a DSP to their TvSync solution, which allows monitoring certain TV channels performance without necessarily monitoring the scheduled shows.
YDigital has an adserver connected to exchanges, ad networks, and SSPs in the markets where they operate, claiming to reach more than one billion daily impressions, in Brazil alone. Among their clients there are global brands such as Nestlé, Coca-Cola, Puma, Samsung, GM, but also important local players such as Buscapé and the giant telco Vivo. YDigital also have partnerships with Brazilian retailers for direct sales on their websites and apps, which are usually CPA-priced.
"I see a lot of advertisers buying the same thing, at the same placement, via auction bids. Today, mobile inventory is a commodity; and our challenge is to transform it to a high-performance format for branding engagement campaigns using our platform Mobyd. We chose to have our own ad server, which we believe was a correct decision and the base of our global growth", said Maluf.
Source: Exchangewire