NextUp, a brand new stand up comedy focussed online video on demand platform is delighted to announce its officially launch on 15th November 2016. Hosting a wealth of recorded live stand-up content for those who love comedy and want more to see than a trip to their local comedy club can offer
Many comedy lovers have found that with fewer acts generating DVDs, unless a tour comes directly to their hometown, they miss out on seeing shows they would love to see.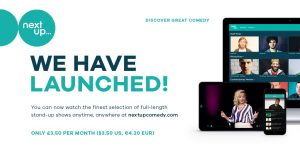 NextUp aims to change that by hosting an online mix of new and established comedy names with stand up performances past and present giving audiences access to recorded shows that are no longer on tour as well as new shows recorded by the NextUp team, caught before they vanish into the ether. The UK's live comedy circuit comprises a far broader spectrum of comedy than is regularly seen on broadcast TV, and NextUp is designed to complement and encourage rather than replace the live comedy world, it aims to bring this wealth of comedy to a broader viewership.
"Selfies in the Grand Canyon" is my favourite special to date. I was involved in every aspect of production on this one, from how it looked right down to the final edit, and I loved every second of it. So I'm properly thrilled that Next Up comedy have selected this, my first real foray into production and direction, as one of the frontrunners on their new streaming service." Brendon Burns
With plans to operate as a membership service that goes beyond a simple subscription, NextUp will offer members access not only to all the performances on the platform for a monthly subscription, but also curated playlists with categories including Rising Stars, Most Watched, Household Heroes and Contemporary Greats to help members navigate to new acts they may not have discovered before. All the videos on NextUp will also be available to download and view offline.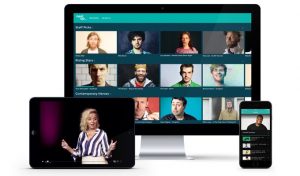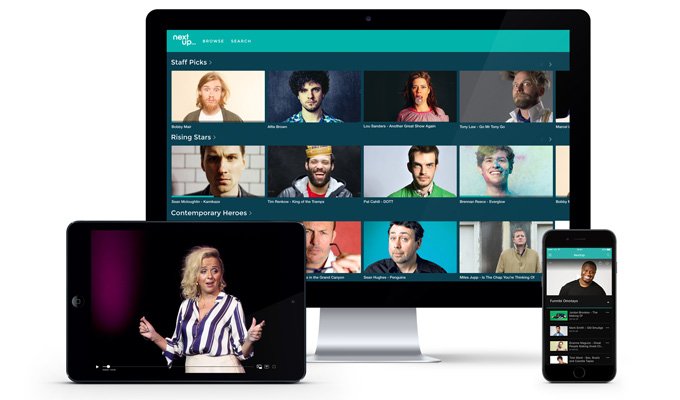 Alongside the online content, members will be able to link though to ticketing info for acts' current live performances, thereby helping to drive audiences not only to discover acts they may not have come across before, but also out into the live shows too. Members will also receive other membership benefits and offers that extend beyond the online platform itself, including voting options on future site content, competitions, access to live shoots for the channel, exclusive editorial by Ben Williams (former Time Out comedy Editor and Edinburgh Comedy Award Judge) and much more – ultimately NextUp aims to create a comedy community connected via the internet but existing out in the real world too.
"This means my Mum can see it and yours too. Also great for agoraphobics." Lou Sanders
For comedians, the site offers a chance to reach a new audience, build a new fan base and encourage those fans to see new live work. They'll also open up a new revenue stream, receiving a percentage of the platform's income for each view their content generates. With content and curated playlists updated regularly, the platform will be ever growing, allowing members to reach further afield and not only find more of what they love, but also expand their comedy horizons. Content will be updated all the time and from launch NextUp will be populated with a wealth of comedy contact including:
Tony Law
Lou Sanders
Richard Herring
Alfie Brown
Luisa Omielan
Simon Munnery
Fern Brady
Lloyd Langford
Brendon Burns
Tim Renkow
Pat Cahill
Ben Target
John Hastings
Miles Jupp
Ian D Montfort
Sean Hughes
Marcel Lucont
NextUp has been founded by the stand-up loving team behind the YouTube Channel and live comedy night, ComComedy, working with Stuart Snaith of BBC Worldwide and 2Entertain.
NextUp co-founder, Sarah Henley says: "The idea for NextUp arose because we as a team found it exceptionally sad that we would come to the Edinburgh Fringe every year and see incredible, lovingly crafted shows, which would maybe tour, but then disappear completely, with only a small handful of comics getting DVD deals. We personally know hundreds of people who would have loved to have seen those shows but couldn't make it up to the fringe or don't live in the towns the tours visit, – and our research tells us there are many thousands more who feel the same. NextUp will support comic talent and share comedians' extraordinary work with a worldwide audience of stand-up comedy fans. With our production arm they'll be able to resurrect their favourite retired shows, or record their new ones as well as gain new fans from existing recordings. Audiences may be brought in by their favourite one or two big names but we hope they will quickly be encouraged to discover the breadth of great comedy the industry has to offer"
NextUp have also partnered with independent comedy producers Turtle Canyon Comedy who have curated and filmed a special 'Best of the Fringe' playlist on the NextUp platform.
Hosted at NextUpComedy.com, NextUp's monthly subscription will cost £3.50 and comes with a 30 day free trial.
Source: NextUp