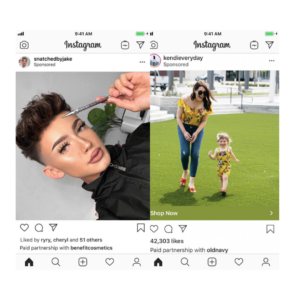 Instagram has launched a tool that will let advertisers pay to make influencer posts appear as ads so that they reach a bigger audience. Until recently, brands who paid influencers to post sponsored videos or images on their Instagram profiles have had their reach limited to that particular influencer's following on the platform.
Now, posts uploaded by creators using Instagram's 'paid partnership' tool (which signposts when content has been paid for) will also feature a toggle that says 'allow my business partner to boost'. The feature will give the brand in question a chance to appear in the feeds and Stories of a wider audience, even if they don't follow the social media star.
Dubbed 'branded content ads', Instagram said the addition of the tool was one of the top requests it had received from businesses.
"We hope this update will add value by strengthening the collaboration between businesses and creators. We also hope to improve the experience between creators, businesses and people – who will be able to discover more brands they may be interested in and shop with the creators they love," it said.
Branded content ads will be available to 50% of businesses from today and 100% from 17 June.
The play from Instagram will allow brands and creators to increase the reach of paid for posts and target them towards relevant audiences in a climate where brands are increasingly upping influencer budgets. However, it also means users will be seeing more #sponcon in their feeds, which could be a turn-off.
While, Instagram claims that, in the UK alone, 68% of people open the app to interact with influencers, a separate study from UM suggests trust in the space is low. Just 4% of a global panel of 56,000 people told UM that they trust information spread by influencers online.
Though the Advertising Standards Authority (ASA) and the Competition and Markets Authority (CMA) have strict guidelines around how paid for posts should be signposted online, the latter revealed earlier this year that it had been forced to warn "hundreds" of creators for flouting the rules.
Source: The Drum